Read my review on the Top 5 Positives
here
.
#5  The run of contention until early August
Wait- didn't this make the top 5 positives list as well?  Despite a surprising run of contention from April-July, the Pirates still finished 24 games back of the Brewers, due to an apocalyptic August-September.  And despite a 15-game improvement in the win column, the team concluded with a very Piratesque 72-90 season.
In the end, the 2011 Pirates weren't much better than any of the previous 18 teams before them.  But they'll be treated like they were during the offseason, and only minimal improvements will be made to a club that could be one of the worst in the league come 2012.
Plus, GM Neal Huntington parlayed 2011 into a complete overkill of a 4-year contract extension.  The only reason I'm not giving that it's own place on the list is because it's doubtful he even survives 50% of it.
#4  Losing Ryan Doumit and Paul Maholm for nothing
I h.a.t.e. the way this offseason has begun already.  Despite having few options in the rotation, and SP Paul Maholm posting a 3.66 ERA in 2011, the Pirates balked at the 29-year old lefty's $9.75MM option for 2012.  Is that a lot of money for Paul Maholm?  Perhaps.  But he should get every bit of that and more on the open market.  The Pirates will be forced to sign a free agent SP that isn't nearly as adequate, for at least half of the money.
But dropping 2 reasonable option years for C Ryan Doumit is infuriating.  Despite battling his constant nemesis of fluke injuries, Doumit hit .303 with an .830 OPS in 2011.  That was good for a 128 OPS+ among catchers.  Doumit's 2 option years averaged $7.75 MM, which is exceptional for an above-average offensive backstop.
The Pirates lost 2 of the better Major Leaguers on the club for nothing, and it's unlikely they'll be able to find replaceable players to fill those roles in 2012.
#3  Missing Big Opportunities at the Trade Deadline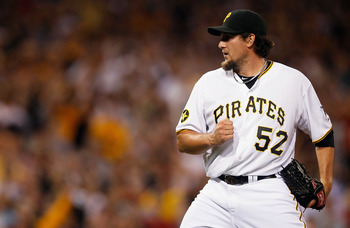 By all accounts, the July 31, 2011 trade deadline was one of the best sellers' markets in recent history.  Yet Huntington held tightly to Doumit, Maholm, and stellar closer Joel Hanrahan, while other teams flipped veterans for promising prospects.
It was a missed opportunity.  The Pirates dropped quickly in the standings, and the Pirates lost Maholm and Doumit for nothing as soon as the offseason began.  While Hanrahan could be moved in the next few months, it's unlikely a team would overpay when they have 1) lots of time  2) a wider variety of trade partners  than were present in July, 2011.
Instead of having a handful of exciting prospects to pencil in over the next few seasons, the Pirates have Hanrahan…and not much else.
#2  Much Hyped Prospects Struggling
If C Tony Sanchez's bat in the picture at left looks new, it's for a reason.  The Pirates' 2009 1st round pick (4th overall) made headlines at AA Altoona in all the wrong ways.  It began with a nationally-recongized gaffe on Twitter, as Sanchez criticized Eastern League umpires, drawing criticism from the organization.  The bad news continued throughout the season, as Sanchez's once-stellar defense slacked, his % of runners caught stealing dropped, and Sanchez finished 2011 with a miserable .658 OPS.  After surging through the lower levels of pro ball, he'll repeat Altoona in 2012, and with good reason.
SP Stetson Allie, the 2nd round steal of the 2010 draft, began his professional career with the thud of a    6.58 ERA at Short-Season Rookie League State College.  Despite a "B" grade from John Sickels after a strong 2010 season at AA Altoona, SP Rudy Owens's AAA ERA balooned to 5.05, while his K/9 dropped by over 2.0.  And that was still lower than SP Zach Von Rosenberg's 5.73 ERA at single-A West Virginia, while SP Bryan Morris– the last remnant of the failed Jason Bay trade- was finally moved to the bullpen for good, as was former SP Tim Alderson.
Not a good year overall, for an organization almost solely dependent on the minor leagues.  And now, the #1 biggest negative of the 2011 season is…
#1  Pedro. Alvarez. Bombs.
In the span of less than a season, Pedro Alvarez's future projection dropped from elite-level 3B and perennial All-Star…to a complete question mark.  And a chubby one at that.  Nothing went right for the 2nd overall pick in 2008.  Despite the Pirates denying it, most fans thought Alvarez showed up to Spring Training fat and out of shape.  He quickly suffered what could've been a conditioning-related injury early in the season, missed far more time than expected, lingered on a minor league rehab assignment until his numbers started to decline there as well, then never got it going upon finally being recalled in August.
His 2011 statline?  An abomination.  .191 BA, .272 OBP, 4 HR, .561 OPS.
Prior to 2011, any future projection of a competitive Pirates team always involved Alvarez blossoming as a legit middle of the order bat.  Not anymore.  While 1 bad season may not damn a player- especially at the young age of 24- it's raised all kinds of questions around 1 of 2 lineup "locks" the Pirates were supposed to have.
Thanks for reading.  Look for more updates throughout the offseason!