Follow me on Twitter @jim_krug         (Opening image credit bleacherreport)
Pirates' fans love manager Clint Hurdle.  They adore his straightforward approach.  Members of the Pittsburgh media are entranced by him.  They live off of the folksy nuggets of baseball wisdom the Michigan native peppers throughout his nightly post-game press conferences, like bees drawn to the sweet nectar of a silver-tipped flower.
For me, this city-wide Hurdle infatuation hit home last fall, when I attended the last Pirates' game of the 2011 season.  Prior to the 7th or 8th inning, I watched in amazement as the entire stadium gave a standing ovation…to a pre-recorded "thank you" from Clint Hurdle.  All of PNC Park was on its feet!  I can't recall a stadium giving a baseball manager a standing ovation, let alone a pre-recorded Jumbotron video, let alone on a team that finished 72-90.
I have always been of the belief that a baseball manager rarely influences his team's success in a positive manner, and even I'll give Hurdle credit for fostering a tightly-knit, confident clubhouse on a 2012 Pittsburgh Pirates' team that's overachieving out of their minds.  But beyond that, Clint Hurdle is the epitomy of an "old school" manager, whose strident mindset and inflexibility have negatively affected the Pirates this season.
Some of Hurdle's old school moves are more minor, and are popular violations amongst many of his managerial kin:  His insistence on sticking with "small ball" excessive bunting, despite this Pirates' team literally living off of the home run in 2012.  His aggressive baseruning decisions that have run the Buccos out of many innings.  His cookie cutter approach to bullpen management, exemplfied by only calling on closer Joel Hanrahan at the starts of innings, and almost exclusively in save situations…because that's the only thing closers are for, dammit!
But Clint Hurdle is guilty of something far, far more egregious nearly every night.  He continues to start veterans C Rod Barajas and SS Clint Barmes on a near-nightly basis, despite the fact that both of them 100% suck out loud.
1.  This season, Rod Barajas has a .634 OPS and 76 OPS+ (keep in mind, a 100 OPS+ is generally considered average).  Backup catcher Mike McKenry has an insane .913 OPS and 150 OPS+, yet spends over half of his games watching Barajas's 36-year old body lumbering behind the plate.  Had he enough at bats to qualify, McKenry's OPS would place him 9th in the entire National League.
2.  This season, Clint Barmes has a .532 OPS and 48 OPS+.  That's nearly impossible, and ranks dead last in all of Major League Baseball among players with at least 250 at bats.
3.  Barmes has only walked 7 times in 318 plate appearances.  In comparison, pitchers A.J. Burnett and James McDonald have a combined 7 walks in just 75 total at bats.  So not only can Barmes not hit, but he lacks the ability to reach base in any meaningful way, bested by some players not even paid to hit!
4.  While the upgrades over Barmes are not as clear-cut as McKenry over Barajas, the Pirates somewhat brought that on themselves.  SS Jordy Mercer (.715 OPS through 23 at bats) was called up on May 29th after a promising AAA performance, and Hurdle proceded to sit the 25-year old in 32 of the next 48 games.  SS Drew Sutton (.697 OPS) started strong for the Pirates (after being traded back from the Tampa Bay Rays), before cooling.  He was designated for assignment, despite being 4 years younger, almost $11,000,000 cheaper, and sporting an OPS 165 points higher than Barmes!  Further, the Pirates did not appear to have devoted any trade deadline talks to improving the shortstop position.
5.  Hurdle continues to stubbornly run out a 7-8-9 of Barajas-Barmes-[Pitcher's slot] on an almost nightly basis.  As I wrote during the offseason when both were signed, that is an OBP black hole.  Literally 1/3rd of the Pirates' lineup has next to no chance of producing runs, essentially granting the Pirates only 6 innings to score in a game, as opposed to their opponents' 9.  Frankly, it's unbelievable the Pirates have won so many games under such circumstances!
That disaster falls both on GM Neal Huntington for shelling out over $15,000,000 this past offseason (which could reach $18,500,000 with Barajas's 2013 option year) to sign Barmes and Barajas as free agents, and on Clint Hurdle for inexplicably continuing to start them each night, praising their "intangibles" while ignoring simple statistics- a hallmark of an old school manager.
The problem is compounded when credited members of the Pittsburgh media refuse to acknowledge this dual disaster, and is masked on a nightly basis by the ROOT Sports broadcasters, whom many fans realize are "strongly encouraged" by the Pirates to present every aspect of their organization in a positive light.  During a July broadcast, I listened to either Bob Walk or Steve Blass ramble about how Barajas was an "upgrade over a young catcher, because you don't know what you'll get with a young guy, but you do with a guy like Rod."
Yeah.  Guaranteed craptacularity.
I honestly harbor no ill will whatsoever towards Clint Barmes or Rod Barajas.  You have to be incredibly talented to reach the Major Leagues, let alone stay there as long as both have.  Nor do I blame either for agreeing to the ridiculous sums of money the Pirates gifted them this offseason, despite their recent production declines clearly warning sensible teams that they weren't worth it.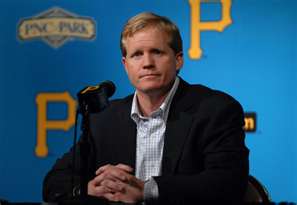 Rather, Huntington harbors the blame for signing them, and Hurdle for continuing to start them, despite every conceivable statistical metric exemplifying that both are hurting the Pirates far more than they help them.  If Clint Hurdle wants to help his veterans save face, few fans would have any issue with him continuing to use Barajas as A.J. Burnett's personal catcher.  Barmes's defensive skills could benefit the club as a late-inning defensive replacement.
But to have Hurdle preach "accountability" on a nightly basis- while running out 2 of the worst regulars in all of baseball- sends a mixed message to a generally young clubhouse, and cripples the team on the field, especially in the middle of a full-fledged legitimate pennant chase.
Hurdle needs to drop his old school notions of "veteranosity" and bench both players.
Huntington needs to accept the fact that neither were quality offseason signings, and one or both may need to be cut prior to their contracts (Barmes through 2013) concluding.  He's done it in the past (2B Aki Iwamura comes to mind) when far less was on the line, and he damn well needs to do it again.
Finally, the Pittsburgh sports media and ROOT Sports broadcasters need to realize that there are SO many overwhleming positives about this team in 2012, that they no longer need to conspire to cover up two of the team's black marks.  They need to ask Hurdle why he continues to start both, and ask Huntington how the organization is holding the high-priced pair accountable.
Thanks for reading.