"When somebody's injured, we shouldn't have a drop off. That's what everybody gets coached for, it's why everybody goes to training camp, it's why our defensive line coach coaches everybody the same, because once one guy goes down, somebody has to step up." Jarvis Jenkins
Tomorrow the Washington Redskins will get their chance to redeem themselves as they take on the Cincinnati Bengals for the home opener. It will be their first time playing at home for their fans this season, and they will look to put on a good show. When asked, Mike Shanahan had this to say about Sunday's game; "We're excited obviously to play in front of our fans, obviously put a good game together. So you always look forward to your debut and hopefully we can do it the right way."
Let's just hope the show resembles a finely crafted Broadway production and not a circus.
The Offense
As of Friday afternoon, Garcon was listed as "Doubtful" to play in Sunday's game. Last week's lackluster performance from receivers demonstrated just how integral Garcon is to the passing game. The chemistry he has with RGIII is amazing. That being said, this doesn't mean RGIII can't develop the same kind of chemistry with another receiver, given the opportunity. He was able to connect with Leonard Hankerson last week for a very impressive 68 yard touchdown, and threw another great pass downfield to Robinson, who then dropped the ball. Everyone needs to step up this week and grab onto every opportunity that is thrown their way, especially with the absence of Griffin's go-to guy. This is a big chance for them to prove they can take on the added responsibility and not drop the ball (literally and metaphorically speaking, of course).
The same goes for running backs. RGIII's 11 carries for 82 yards was impressive, but he can't be expected to carry the weight of the entire team on his shoulders. Sure it's fantastic that we have a QB who can run, but the other running backs need to step up and truly contribute to the ground game. Shanahan has given the impression that he has no plans to limit how much running RGIII does in a game, only increase his protection. It's not so much that he needs to step down as it is other guys need to stand up. Morris has been good thus far, and the team runs the ball the third most in the NFL. Still, RGIII needs to have as many options as possible, especially given the level of aggression he encountered last week. He may be good, but he cannot be the entire offense.
The Bengals for whatever reason seem to have struggled thus far on defense. It's hard to anticipate what kind of challenge they will bring for the Redskins offense. On the one hand, we know what they did last year and that most of their starters came back this season. On the other hand, they allowed Brown's QB Brandon Weeden to throw for 322 yards last week. Hopefully the defense will show up tomorrow and perform at a level consistent with the previous two weeks. It would certainly make it easier for other guys on offense to step up.
The Defense
The status of the Redskins pass rush will be revealed tomorrow. Coming into this season it looked to be one of the strongest components of the team. With the absences of Orakpo and Carriker this has come into question. This is certainly an enormous blow to the defense, but it doesn't necessarily mean the front seven will fall apart. Jarvis Jenkins will likely start at defensive end while Rob Jackson and Chris Wilson, among others, will likely rotate at the outside linebacker position. If you need more reassurance that these guys are taking this opportunity seriously, refer to the quote at the beginning of this article.
Bengals quarterback Andy Dalton has been sacked 10 times in the past two games. Jenkins, Wilson and Jackson will all have a chance to add on to this number.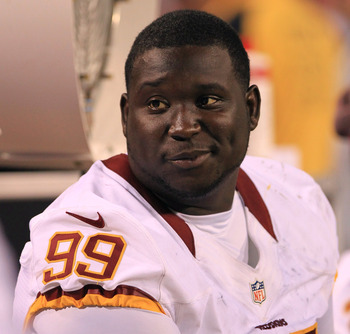 Perhaps the biggest test the defense will face will be stopping Bengals wide receiver Andrew Hawkins. He is notably one of the faster receivers in the league and is extremely difficult to predict. The defense will need to bring pressure against Dalton and limit his opportunities to throw to Hawkins.
A.J. Green is another threat they will bring on offense. He will most likely be covered by Hall. Of note is the significant difference in height, with Green standing at 6-4 and Hall at 5-10. This had been an issue at times last year, but there doesn't seem to be a limit to what Hall can do, so while it may be a challenge it doesn't necessarily have to be a limitation.
Special Teams/"Other"
The Redskins have had a blocked punt in both games this season and they both resulted in touchdowns. Hopefully they've figured out exactly what is going on there, because they can't afford costly mistakes such as these.
Speaking of things they can't afford, they Redskins now lead the NFL in penalties. This is in no way acceptable, especially given the level of discipline they've committed to this season. Let's hope they've dealt with any anger and hostility about last week's game because if the officiating tomorrow resembles the stunning display of incompetency we saw last week, it could push them over the edge. And by them I mean me.
But seriously, perhaps the most frustrating element of the Redskins is the stupid mistakes and losses. I will again quote Santana Moss when he said "We are our own worst enemy" because it pretty much sums it up. And while they might not have control over the terrible officiating, or the nastiness of other players, they do have control over how they react to it. I have no doubt in my mind that Shanahan hammered that point into them last week. Let's keep our fingers' crossed that they remember it.