Read part 1 of the series here, and part 2 here.
We've laid out the key decision makers of the Pittsburgh Pirates that have contributed to two of the worst collapses in MLB history- in consecutive years no less (2011 and 2012)!  In the conclusion of this 3-part series, this author shares his opinions on who are accountable, from the least responsible to the most.
Least Responsible:  The Pirates' Players Themselves
This seems counterintuitive, as the players are the ones deciding games on the field, while the front office types watch from their luxury boxes.  Further, the team clearly went through the motions in September, despite being 2 games or less out of the Wild Card race for much of the month.
But as you examine the roster, it's difficult to find many players that performed well below expectations.  SS Clint Barmes and C Rod Barajas obviously jump out, but both were also clearly in decline when the Pirates spent $15,500,000 signing them in the offseason, and Manager Clint Hurdle could've benched the pair at any point if he chose.  Further, you could argue that outside of Andrew McCutchen, Neil Walker, A.J. Burnett, Joel Hanrahan, Jason Grilli, and perhaps Pedro Alvarez and Garrett Jones, the Pirates were thin on players that would actually start for competitive MLB teams.
In short, the front office has done a poor job assembling a competitive team.  Yet the majority of 2012 roster performed at or beyond their expectations.
Slightly More Responsible:  Manager Clint Hurdle
Even though an average MLB manager has a minimal effect on a team's success over a 162-game season, Hurdle negatively affected the Pirates on multiple fronts.  He insisted on an archaic "small ball" approach that generated countless automatic outs through excessive sacrifice bunting , and reckless abandon on the basepaths (which he already reaffirmed he's going to continue doing next season, despite the actual evidence that it worked) .  His categorical bullpen management often left his best relievers in Joel Hanrahan and Jason Grilli seated on the bench, watching weaker arms blow critical leads prior to the 8th inning.
But most importantly, Hurdle continued to run Barmes and Barajas out game after game, despite both being 2 of the worst regulars in all of baseball.  Hurdle's insistence on old school gumption over basic statistical analysis limited him as a manager, and cost the Pirates games.
Still, not even Michangelo could carve a beautiful statue if he was handed pumice instead of marble.  Until the front office can assemble a better roster of players for Hurdle's disposal, it's difficult to consider him among the most responsible.
A Little More Responsible, But Still a Minor Player:  President Frank Coonelly
Were this a list of PR embarrassments, Coonelly would head the list without doubt.  But in terms of baseball moves, the President's influence is minimal.  However, Coonelly cannot be totally absolved from blame, because when he has intervened in baseball matters, they've often ended poorly.  From vetoing the original Jason Bay trade that would've landed the Pirates SP Cliff Lee, C Kelly Shoppach, and OF Franklyn Gutierrez, to trying to cuckold prospect Miguel Sano's agent, to botching the Pedro Alvarez negotiations with Scott Boras, Coonelly's baseball interventions have backfired, and cost the Pirates quality players.
Significantly Responsible:  Assistant GMs Kyle Stark and Greg Smith
Stark has had his own Coonelly-level PR gaffes lately, but the greater concern is the lack of development many Pirates' prospects have shown over the past 5 years.  Many of the team's highly-touted above-slot selections flamed out quickly, former 1st round pick C Tony Sanchez continues to regress, and despite picking at or near the top of the draft during GM Neal Huntington's entire tenure, the team has yet to develop a truly dominant, elite-level prospect, although Pedro Alvarez was certainly a very good prospect, and current SP prospects Gerrit Cole and Jameson Taillon will make many a prospect list in 2013.
While hundreds of personnel are involved in the growth of Pirates' prospects, a great deal of success hinges on the correct scouting and selection (Smith) and eventual development (Stark) of the young men GM Huntington drafts.
Very Responsible:  GM Neal Huntington
Unfortunately, a significant amount of this author's isportsweb articles have detailed the many missteps of the Pirates' current GM.  However, all of these bad personnel decisions have 3 themes in common:
1)  Poor evaluation of existing talent, and talent pursued
2)  Unwillingness to reflect on previous bad decisions, and alter future strategy
3)  Poor allocation of limited resources
During the 2012-2013 offseason, Huntington continues to echo the same style of poor decisions that have led him to a worse cumulative W-L record to date than former GM Dave Littlefield.  Non-tendering a solid 29-year old SP in Jeff Karstens.  Pursuing a 33-year old SP in Chris Capuano that is only a marginal upgrade over Karstens, makes more money, and may require a significant chip in trade.  Publicly insulting closer Joel Hanrahan, and driving down his trade value.  Spending $14,000,000 to sign a below-average catcher in Russell Martin to a multi-year deal.  Swap out the names, and this could be any Huntington offseason since 2007.
The bottom line is that a very small payroll makes it difficult to contend at the MLB level.  Difficult, but not impossible.  Over the past 5 years, nearly every one of Pittsburgh's small market, small payroll peers has either made the playoffs, or at least finished above .500.  The window for contention is small, but with Huntington at the helm, it may be nonexistant.
Most Responsible:  Owner Bob Nutting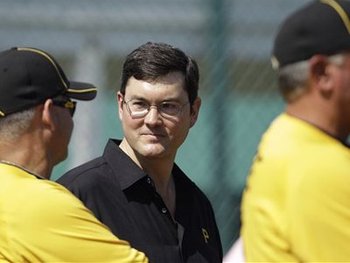 Initially, Huntington was poised to top the list of responsibility, until a friend brought up a good point:  Ultimately, it's Nutting's decision to keep Huntington employed, despite a growing mountain of evidence that perhaps he shouldn't.  Bob Nutting has kept the Pirates' payroll among the lowest in baseball, yet yearly profits are among the highest in the game.
Despite his talk of accountability, Nutting has yet to place definitive numbers on spending, nor a concrete year or timeframe in which he expects the Pirates to contend.  Pirates' fans have yet to see the competitive payrolls they were promised when their tax dollars largely financed PNC Park in the early 2000's- a beautiful facility that now adds to Nutting's already healthy franchise value.
Nutting is clearly an effective, successful businessman in his other ventures.  So as a fan, it's incredibly frustrating to watch him allow the continuance of unsuccessful practices and personnel on the baseball front.  As much as fans lost faith in the ability of former President Kevin McClatchey, they ultimately knew he wanted a winning team in Pittsburgh, but simply didn't know how to accomplish it.
Years after assuming majority control, Pirates' fans still aren't sure whether Bob Nutting truly desires a winner in Pittsburgh, or simply enjoys the profitability of his investment.
Thanks for reading.  Here's hoping for brighter times ahead.