(Follow me on Twitter @jim_krug)
If you lock a handful of monkeys in a room, they'll eventually write Hamlet- or so the saying goes. For the Pittsburgh Pirates, this is their 21st-straight season of locking in a questionable collection of players, and hoping absolutely everything breaks exactly right for the team to finally cross the elusive .500 threshold. So is this assortment of simians any more promising than the previous twenty, which combined to form the longest losing streak in North American professional sports history?
3 Up
Best Case Scenario for 2013
The Pirates arguably benefitted from best case returns in both 2011- when the overachieving team was perched atop the NL Central late into the season- and 2012- which found the club 16 games over .500 at one point. However, the objective, yet often cruel beauty of a 162-game season is that nearly all over- and under-achievement returns to the norm. Pittsburgh set a Major League record in 2011 for the worst finish (72-90) by a team in first place midway through the season, and another record in 2012, becoming the first MLB team to finish under .500 after being at least 16 games over .500 at any point. (Despite the constant talk from Pirates' ownership and the front office of "accountability", not a single coach or baseball decision-maker within the organization was replaced after these failures.)
Best case scenario? Like the two years previous, the team manages to remain in the Wild Card race until late July, GM Neal Huntington finds true trade deadline upgrades, and the Pirates finally finish somewhere above .500 for the first time since the Barry Bonds-led Pirates did so in 1992.
Most Important Pirates
CF Andrew McCutchen– Although he may not consistently factor into the National League MVP race as he did a year ago, McCutchen is the one true bona fide star of the Pirates. Doing his best 25-year old Bonds impression (minus the insane stolen base totals), the dreadlocked fan favorite hit .327 with a career-high 31 HR, 96 RBI, 20 SB, and an outstanding .953 OPS (164 OPS+). McCutchen would be the best- or at worst, 3rd best- player on every team in baseball. And last year, he and his agent gifted the team with a bargain basement contract extension that will keep McCutchen in black-and-gold through 2018. But will the Pirates ever be able to assemble a competent team around their superstar? Or will McCutchen follow the lineage of Jason Bay, Brian Giles, and Jason Kendall: outstanding hitters in their prime, whom never had secondary support?
[Find the links to all 30 MLB team previews here: 2013 MLB Team Previews]
SP James McDonald– While many of the rotation headlines will focus on name veterans like A.J. Burnett, Wandy Rodriguez, and the wildly-erratic-and-possibly-injured Francisco Liriano, this former Dodgers' farmhand can emerge to lead a staff clearly in transition. Along with Burnett, McDonald was a bona fide NL Cy Young candidate through the first half of 2012, surprising with a dominant 9-3, 2.37 ERA. But the stretch run saw McDonald plummet back to Earth like a Russian meteorite, as his second half ERA balooned to 7.52, and batters raised their OPS against by nearly 400 points. McDonald has always flashed top-of-rotation potential; now is his chance to solidify a role near the front of the rotation, instead of jockeying for #5 starter scraps when farmhands Jameson Taillon and Gerrit Cole hopefully debut late this season.
(Check out a fantastic Pittsburgh Pirates 2013 Top 15 Prospects List at bullpenbanter.com!)
Potential Breakout Players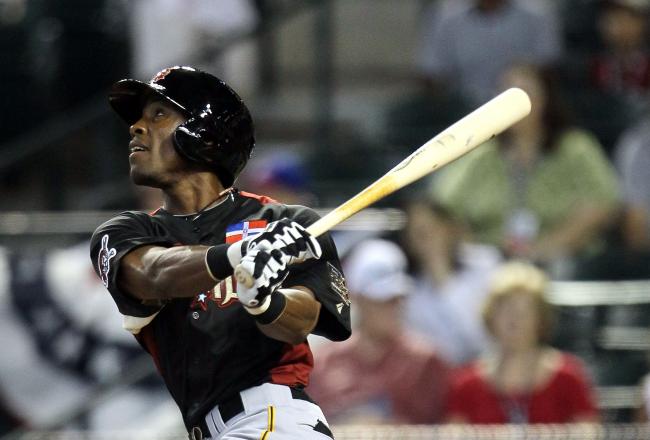 OF Starling Marte– Quite literally the Pirates' only hitting prospect of significance in the upper minors, Marte was rated the  Baseball America 40th best prospect in baseball heading into 2012, and did nothing to disappoint.  Posting an .847 OPS at AAA Indianapolis, Marte made his MLB debut in July, and homered on the first pitch he saw! With All Star McCutchen firmly entrenched in CF, Marte will be asked to patrol PNC Park's spacious left field, and provide a top of the order spark to a team in desperate need of it. His MLB success will hinge on his walk rate, or lack thereof. With a minor league K:BB rate of nearly 4:1, the 6'2″ 24-year old will either need to improve his pitch selection, or simply hit like hell to reach base at an acceptable clip.
OF Jerry Sands or Travis Snider– GM Huntington's quantity-over-quality approach has created a logjam in RF, where a cadre of capable yet uninspiring choices (also including Jose Tabata, Alex Presley, and cameos by Garrett Jones) will battle it out for the traditional power position. The key return of the fairly panned Joel Hanrahan trade with the Boston Red Sox, the 25-year old Sands posted back-to-back 25+ HR, .900+ OPS seasons in the homer-happy Pacific Coast League (AAA), before being traded twice in the same offseason, eventually landing on the banks of the Allegheny River.
A long-time heralded power prospect himself (reaching #6 for Baseball America in 2009), the Toronto Blue Jays finally moved Travis Snider to the Pirates on the 2012 trade deadline, after five unsuccessful attempts to establish himself as an everyday lineup fixture. The 6'0″ lefty has hinted at MLB power potential, but was never given enough uninterrupted playing time in Canada to prove it. Snider may face a similar situation in Pittsburgh, where the Pirates could take a "flavor of the month" approach until one legit RF candidate emerges.
 3 Down
Worst Case Scenario for 2013
In 2012, nearly every rostered player performed at or above expectations. If Pittsburgh has a handful of below average performances this season, their playoff ship could be sunk before it ever leaves port.  SP A.J. Burnett had a fantastic bounce-back season in Pittsburgh, and quickly became a fan favorite. But like McDonald, Burnett's effectiveness waned as the summer Sun dropped lower in the sky, and at age 36, the long-time Marlin, Blue Jay, and Yankee is clearly in the twilight of a successful career.  He may not receive much veteran rotation help.
Trade deadline acquisition SP Wandy Rodriguez looked supremely hittable at times, and saw his K/9 drop almost two batters lower than his career numbers- the difference between a top-of-rotation starter (8.0 K/9) the Pirates hoped they acquired, vs. a middle-of-the-pack innings eater (6.0 K/9). And long-courted lefty Francisco Liriano has no trouble missing bats; it's the strike zone that baffles him.  The former Twin and White Sox hasn't posted an ERA+ above 80 (100 is average), nor a BB/9 below 5.0 (pretty terrible) for the past two seasons. Sadly, as has been his strategy since taking office in 2007, GM Huntington often throws large sums of money at veterans, in the hopes that they repeat performances from a specific year that may range from 2-5 seasons previous. Hamlet.
Couple a sketchy rotation with a lineup possessing only two potential power bats (McCutchen and 3B Pedro Alvarez), and a bullpen turning the closer reins over to a 36-year old that has never closed (crowd favorite Jason Grilli), and as is the potential with any Pirates' team since 1993, they could lose 100.
Areas of Concern
Clearly, there are many. One of the reasons Pittsburgh has failed for so many years is a stubborn unwillingness to cede roles to younger prospects at the expense of older, pricier veterans that are a minimal upgrade at best. Farm products SP Kyle McPherson or Jeff Locke may be pushed out of the rotation due to the acquisition of Liriano, even though Liriano has been terrible for two years straight, and the Pirates needed to re-work his elaborate, overpriced contract to include multiple injury contingencies to protect themselves.
Sands and Snider will be bumped out of RF whenever power-free 1B Gaby Sanchez starts at first, pushing Jones into RF. Former 4th overall pick C Tony Sanchez may never get a chance to start in Pittsburgh, as the Pirates burned half of a limited free agent budget signing backstop Russell Martin (sub-100 OPS+ since 2009) to a 2-year deal, after Martin himself talked the team down from a 3-year pact. And while neither is a marquee prospect, it's insulting that INF Jordy Mercer and Chase D'Arnaud will spend a 2nd straight season stuck behind one of the worst regulars in baseball in SS Clint Barmes. The Pirates paid Barmes $5.5MM to post an abysmal .593 OPS (66 OPS+) in 2011, and will do so again this year.  In fact, the only player keeping Barmes from the title of most terrible regular in baseball was former teammate C Rod Barajas, who had quite literally the worst season in MLB history for a starting catcher in 2012.  (Oh, and the Pirates paid him $4,000,000 to do that.  Veterans gotta' eat!)
Who Needs to Bounce Back From a Down 2012
There honestly aren't many candidates, as the 2012 Pirates overachieved in almost every area, and still finished below .500. But here's a quick list of performances that would certainly help:
SS Clint Barmes– He's not the 93 OPS+ player the Pirates signed away from the Astros in 2011, but he also isn't the 66 OPS+ hitter fans endured in 2012. Barmes needs to reach base at a .310-.320 clip for his above average defense to pay off. Unfortunately, his age (34) and career OBP (.298) make that highly unlikely. The Pirates should just accept the fact that they wasted $11,000,000, and roll the dice with Mercer or D'Arnaud instead.
C Russell Martin– The Pirates seem to delight in showing fans that the club can sign players away from the New York Yankees and Boston Red Sox, overlooking the fact that these powerhouses were not interested in retaining them. If Martin can reach base at a career clip (.352, with a .751 OPS), he'll be a significant improvement over Barajas, and a rare feather in GM Huntington's threadbare free agency cap. But if Martin struggles to make contact like he did in 2011 and 2012 (.237 and .211 BA, respectively), the Pirates will have paid $14,000,000 for a slightly younger, slightly better version of Barajas, who will run into the occasional home run, but remain an offensive liability.
1B Gaby Sanchez– In 2012, Major League Baseball allowed teams to trade 1st round compensation picks for the first time in history- and the Pirates were quick to burn theirs, sending the 33rd overall pick to the Florida Marlins in a deadline deal for Sanchez. While the intent of the deal may have been to form a Moneyball-esque 1B platoon with Garrett Jones, Sanchez had an abysmal 2012 that saw the already power-lite 1B post only a .620 OPS.  Like Barmes, the Pirates invested enough in Sanchez that he's going to play regardless of production, so it would benefit the team if he returned to mashing lefties at his career .869 OPS clip.
Overall
When you look at the exciting moves the similarly-sized and -financed Cleveland Indians made this offseason, fans of the Pirates (we're still alive and kicking!) have to wonder what the point was behind theirs. Pittsburgh spent around $14,000,000 on free agent acquisitions, yet didn't improve noticeably. They traded one of the best closers in baseball- and one of their few remaining trade chips- yet the chief return was not much different than an existing in-house option. And at least 3-4 AAA prospects with some ceiling will be blocked by veterans with no remaining projection.
For decades, the Pirates have been stuck somewhere between the star cross'd lovers of rebuilding and contending, and the fatal loins of the NL Central basement have exemplified this lack of organizational direction. If the team ever wants to write Hamlet– as opposed to an off-Broadway Romeo and Juliet knockoff- they need to go with all young primates, because the old ones don't have enough left.
More Team Previews
Chicago Cubs
Cincinnati Reds
Milwaukee Brewers
St Louis Cardinals