Today we take a look at the runningback situation for the Chicago Bears.  The NFL is in a transition period.  No longer are there many teams running the traditional ground and pound offense- it has become a pass-happy league.  The Bears, however, have not shied away from the run game.  But with new head coach Marc Trestman at the helm, the Chicago offense could be in for a change.
Starter Matt Forte had another productive season last year, rushing for nearly 1,100 yards – good for 12th in the league among runningbacks.  He also added five touchdowns.  The key for Forte was being able to stay healthy for most of the season, as he missed just one game with a sprained ankle.  He carried the ball 248 times, which was the most he had since the 2009 season when he had 258 carries.  Even with the increased attempts, Forte was able to protect the ball nicely with just two fumbles, only one of which was lost.
The former Tulane runningback did not have as much success as a receiver last year as in past years.  He had career lows in receptions (44), targets (60), and yards (340).  The addition of wide receiver Brandon Marshall was probably the reason for the drop off in Forte's receiving production.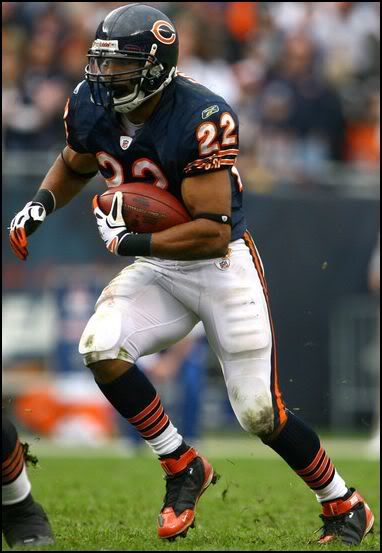 The Bears also brought in Michael Bush last year, who left Oakland via free agency.  The powerful Bush, when healthy, proved to be a viable complement to the quick Forte.  They were a solid 1-2 punch throughout the season.  Bush finished with just over 400 yards and five touchdowns, mostly near the goal line.
It will be interesting to see what Trestman will do with the offense this year.  Some believe that he will turn the Bears into more of a passing team with Jay Cutler leading the offense.  However, it seems unlikely that they will completely abandon the run game, especially with two backs that are capable of carrying the load.
Having Michael Bush around will help ease Forte's usage and preserve his body.  Today's backs aren't having as long of careers as they once did.  Veterans such as Cedric Benson and Michael Turner are still free agents.  Both were talented backs, but at 30 and 31 years old, respectively, they are no longer in their prime.  Forte is 27 years old now.  If recent history tells us anything, it's that he only has a few more years to play at a high level.  Maybe he will continue to compete after that, but the way backs are taking a beating lately, the Bears may want to look into investing in another young back after this season.  Armando Allen is also on the roster, but he needs to bulk up considerably to become a starter in the NFL.
Look for Forte and Bush to have a successful season together; assuming they can both stay healthy.  They will be much more effective if paired together to complement each other.
Matt Forte Stats
[table id=501 /]
Related articles
Chicago Bears season outlook: Quarterbacks