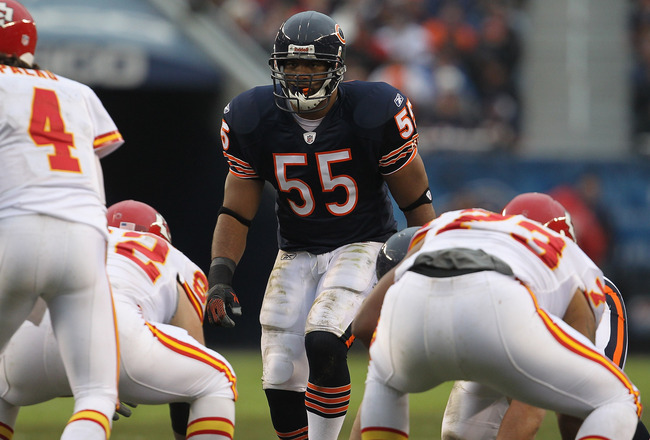 Perhaps the biggest change for the Chicago Bears in the 2013 season will come at the linebacker positions.  The face of the franchise for so many years, Brian Urlacher, was not brought back following the 2012 season.  It was a shock to many, but the team and the long time Pro Bowler could not agree to a contract.  Along with the loss of Urlacher, the Bears also lost Nick Roach and Geno Hayes via free agency.  General Manager Phil Emery had quite a bit to do this offseason with the linebacker positions, but he took some good first steps to rebuild them.
The Bears first signed veteran players D.J. Williams and James Anderson to one year contracts.  Williams, a ten year veteran out of the University of Miami, has his best days behind him, but he will be able to come in and bring some veteran leadership to the middle linebacker position.  Without Urlacher manning the middle anymore, Williams will look to do his best to fill his shoes, something that won't be very easy to do.  He only played in seven games last season due to being suspended for violating the league's substance abuse policy.   The troubled linebacker has been with the Denver Broncos since he was drafted in 2004.
James Anderson, a former Carolina Panther, was brought in to replace Nick Roach.  Anderson took a bit of a slide last season as he recorded just 73 tackles in 12 games, compared to the 145 he had in 2011.  Anderson, like Williams will bring veteran leadership to the position and be able to step in immediately.
Because Williams' and Anderson's contracts are just one year deals, they may just be rentals before Chicago's young players gain some NFL experience.  Rookies Jon Bostic and Khaseem Greene were second and fourth round draft picks, respectively, this year.
Bostic, who played his college ball at the University of Florida, is a born leader.  He manned the middle of the Gators defense for four years, recording 237 tackles, 7.5 sacks, and five interceptions in 51 games, 32 of which he started in.  At 6-foot-1 and 246 pounds, Bostic has good size to play inside linebacker in the NFL.  Some people are already trying to find out if he will be able to replace Brian Urlacher down the road, but this young player just needs to focus on being the best he can be.  Look for Bostic to possibly take over the reins at middle linebacker as earlier as the 2014 season though.
Greene, a former Rutgers University standout, could be one of the steals of the 2013 NFL Draft.  He recorded 136 tackles, six sacks, two interceptions, six forced fumbles, and also scored two defensive touchdowns all in his senior season.  The great season earned Greene first-team All-American honors and he was also named Big East Defensive player of the Year.  Greene is a quick outside linebacker (he also played safety in high school and in his early time at Rutgers), who is seemingly always around the ball.  He also holds the NCAA record for most career forced fumbles with 15.  Don't expect Greene to see much starting time this season, if any at all, but when he gains some NFL experience, he has a chance to be one of the brighter players at the position.  He brings great intensity and pride to the game, which is good to see from a young player.
Along with all the new additions will be Lance Briggs.  Briggs will be entering his 11th season with the Bears.  He has recorded at least 100 tackles in all but two of those seasons.  There is no question that Briggs is one of the better linebackers in the league, and you can expect to see him take it to another level this year with the departure of Brian Urlacher.  It is now his time to step up and lead the Chicago defense.
On Friday we will wrap up our 2013 season outlook by taking a look at the secondary situation, which has been touched on a bit already.
Lance Briggs Stats
[table id=501 /]
Related Links