Today wraps up our Chicago Bears 2013 season outlook, as we take a look at the secondary situation.  Not much has changed with the defensive backs since last season, and they should be in line to give quarterbacks headaches once again.  Pro Bowl cornerbacks Tim Jennings and Charles Tillman will once again be on the outside with Chris Conte and Major Wright manning the safety spots.
As touched on before, Jennings and Tillman had exceptional seasons in 2012.  Jennings led the NFL in interceptions with nine, whereas Tillman was the league leader in forced fumbles with ten.  Often referred to as "Fight and Flight" in 2012, Tillman and Jennings were prime time play-makers last year.  One or the other was seemingly always around the ball forcing turnovers.  They were clearly the best tandem in the league at the cornerback position, and they will look to continue their dominance this year.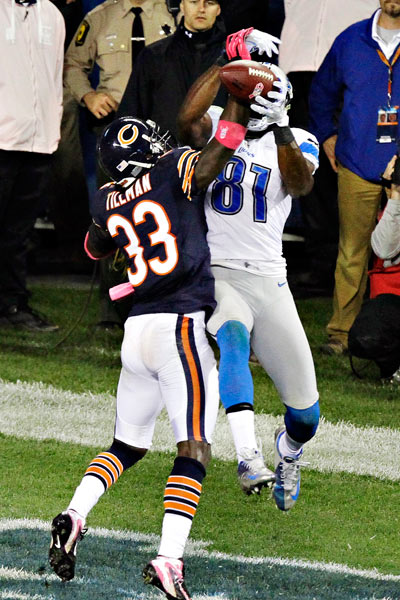 However, it won't be easy to reproduce what they did in 2012.  Jennings' season was by far his best since being drafted by Indianapolis in 2006.  His nine interceptions were two more than his career total, seven, before entering last year.  As for Tillman, he's not getting any younger.  He is now 32 years old and is still playing at an incredibly high level, but who knows how much longer his body will hold up.
Major Wright showed flashes of good play last season at the strong safety position, but was still relatively inconsistent.  He did finish with a career high in tackles with 71 and interceptions with four.  However, there were still too many occasions where Wright was beat deep, something that absolutely cannot happen in a deep cover two defense, which is what the Bears ran last season.  Wright is still relatively young though, as he will enter his fourth season in 2013.
Conte played similarly to Wright, as he was also inconsistent throughout the season.  He did reel in two interceptions along with 68 tackles at the free safety spot, but also struggled in pass defense.  There is no excuse for how many times he was beat deep in the much cushioned cover two defense.  With another year of experience and possibly a new defensive scheme, Conte and Wright will look to tighten up their pass defense skills.
The main concern for the Bears with the secondary, however, is the contract situation of Tillman and Jennings.  They are both set to become free agents at the end of the season, and if they continue to play like they did in 2012, it will be very tough to keep them both after the 2013 season.  That scenario was last discussed a few weeks ago here.
Chicago will once again be one of the tougher defenses in the NFL, and it will start with this ball-hawking secondary that was in the top ten for pass defense in 2012.  They may need to step up even more with the revamped linebacker positions, but they will be up for the challenge.
Charles Tillman Stats
[table id=501 /]
Related Links
Chicago Bears season outlook: Linebackers