The Devin Hester wide receiver project has crashed and burned to the ground.  He failed to be a consistent pass catcher and route runner in his time on offense.  His best season as a wide receiver came in 2009 when he hauled in 57 passes for 757 yards and three touchdowns.  The only other time he surpassed the 50 reception mark was the year before when he had 51.
Hester's time as a receiver is over.  But it isn't the worst thing.  New head coach Marc Trestman is making sure that the elusive speedster will be going back to his full time duties as the main return man on special teams.  As great as Hester once was, he has seemingly lost his ability to take it all the way.  Or has he?
Since the Bears tried to turn Hester into a receiver in 2008, he has had his ups and downs as a returner.  After being drafted in 2006, he had 11 combined kick return and punt return touchdowns in his first two seasons.  In the following five years, Hester only had six total return touchdowns, which included a two-year drought in the 2008 and 2009 seasons.  In fact, in 2009 he only had 31 combined returns, which was by far his lowest career total.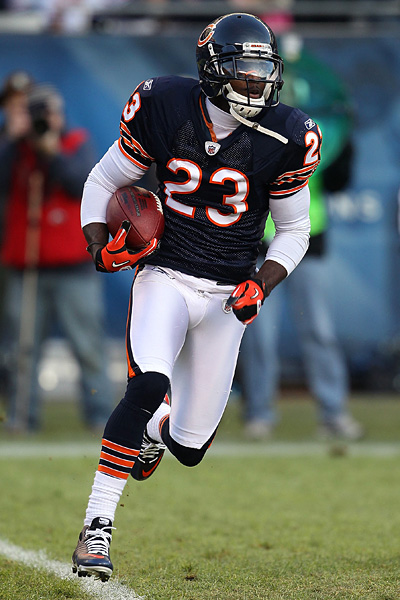 It is hard to pin the entire reason for Hester's struggles as a return man on the positional switch.  Although he did not have as many attempts in the 2010 and 2011 seasons as he did in previous years, Hester still managed to lead the league in yards per punt return with 17.1 and 16.2 respectively.  He also was the league leader in total punt return yards (564) and touchdowns (3) in 2010. So while many will be quick to say Hester hasn't been effective since becoming a wide receiver, they are wrong.  He has still been among the league leaders as a return man.  He is just not doing it in the record-breaking fashion like he was during his first couple years in the league.
At the same time, Hester has been rather inconsistent since making the position switch.  As I mentioned before, he did not have a single return touchdown in his 2008 and 2009 seasons.  His 6.2 and 7.8 yards per punt return in those seasons are career lows.  Neither of those outputs was good enough for top 40 in the league, something that is completely unacceptable after the performances he had in the previous two seasons.  Of course he wasn't likely to reproduce those miraculous first two seasons, but not even being in the top 40 in the following years just doesn't make much sense – queue the position change critics.
2012 was another tough season for the three-time Pro Bowler.  Hester failed to finish in the top 30 for yards per return for both kickoff and punt returns.  He also did not find the end zone on any of his return attempts.
Hester will have to prove that he is worth the roster spot this summer in training camp.  With no other duties than returning, Chicago could seemingly part ways with the once-electrifying returner.  However, he has made it clear that he is willing to support Trestman's decisions and return to his normal return duties and do it to the best of his abilities.  Whether the less responsibility will impact Hester's performance as a returner is yet to be seen, but he is only 30 years old and should still have something left in the tank.  Bears fans hope that they can once again watch the man who took everyone's breath away every time he had the ball in his hands.
Related Links
Chicago Bears season outlook: Wide receivers and tight ends
Trusting Trestman: Chicago Bears' new coach from the north