The Minnesota Vikings have never really had a franchise quarterback in my generation. They had big name guys like Brett Favre and Donovan Mcnabb pass through, but no one who they developed and succeeded with. The years after the loss of Daunte Culpepper have been rough in Minnesota for the league's most important position. The job has somewhat been up for grabs since the team lit it up with Randy Moss and Chris Carter in their prime. The team has started nine quarterbacks since Culpepper's last season in 2005.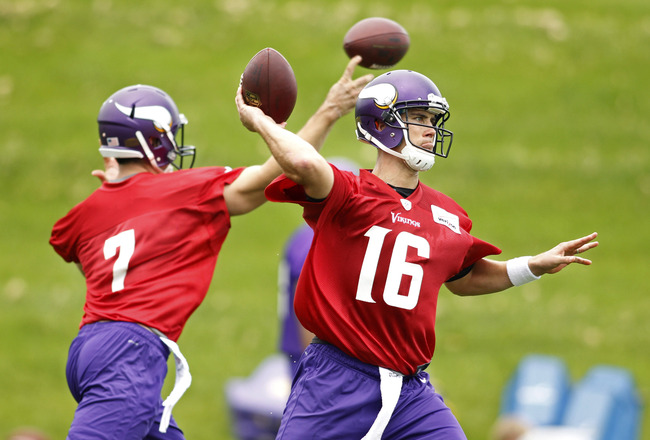 The torch has been passed on to many, but it seems likely it is finally making a stop worth a long while. It sits in the hands of third year quarterback Christian Ponder.
As many are aware, the implications this season has on Ponder's future as a quarterback in the NFL are huge. But, I believe the pick up of Matt Cassel is a larger benefit for Ponder than anything else. The team sees it as an opportunity to back up the quarterback and give Joe Webb a chance to do the things in the receiving game he was drafted for. That can pay dividends in the future in case Ponder goes down. Every Viking fan knows what happens when they rely on sub par quarterback play, "Cough cough. last year's wildcard game against Green Bay." This is the first reason both the team and Ponder will benefit from the addition of Cassel.
Many teams like to bring in a guy who can push the starter to work harder in the offseason and keep them from being content with where they are during the season. Having a solid guy who can start in the league behind a quarterback can light a fire underneath his butt midway through the season when times are getting tough. This can be done by saying the starting position is an open competition or in this case bringing in a veteran to help move along a developing player. Ponder is the starter for the Minnesota Vikings and will remain the starter unless he suffers an injury or has a disastrous start to the season. Having that extra motivation can put Ponder in a whole new position to prove something to everyone who may have doubted him.
Another key reason I believe bringing in Cassel can help Ponder is the knowledge he can pass along to the third year guy. Cassel spent time at USC backing up Matt Leinart and Carson Palmer, sat behind Tom Brady and Doug Flutie before having a breakout season later in his career. His past four seasons with the Chiefs were mediocre at best and he never really stayed at the level he played at when he replaced the injured Tom Brady. Not to mention his roommate Troy Polomalu; Cassel can give Ponder insights into how a future Hall of Famer got to this level.
As Vikings fans anticipate the upcoming season, it is important to understand how the front office and coaching staff plan to facilitate the guys they bring in. In this case, Christian Ponder's "show me" season is underway and Matt Cassel will be standing on the sideline with a hat and a clipboard cheering on the offense.