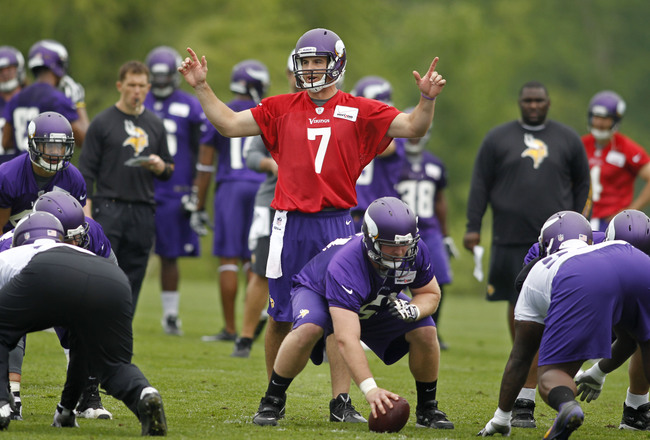 The 2013 Minnesota Vikings players are scheduled to report to training camp on Thursday, July 25th in Mankato, MN. With the beginning of camp days away there is no better time to discuss the storylines heading into camp than now.
Quarterbacks: "Christian Ponder vs. Matt Cassel."
Is this really a quarterback battle? I don't think it ever will be unless Ponder goes down to injury or in the unlikely case that he falls completely apart. Cassel was brought into Minnesota to backup Ponder and help him progress as a starter in the NFL. Cassel has the ability to start for the team, but will play second fiddle to the young gun. His main contribution this season will be depth. Recently the Vikings have had sub-par back ups who have no business playing quarterback on any team. Joe Webb is not a quarterback nor will he ever play at that position again. That's great news for Vikings fans who had to watch in horror as Webb and company butchered the offense in their playoff matchup with the Green Bay Packers last season.
This is the year where Ponder needs to solidify himself as a franchise quarterback. Not only does he have to manage the game, he has to make more downfield plays to get the extra defenders out of the box. After all, Adrian Peterson is not Superman. Right..?
Receivers:  "Who will step up in the receiving corps?"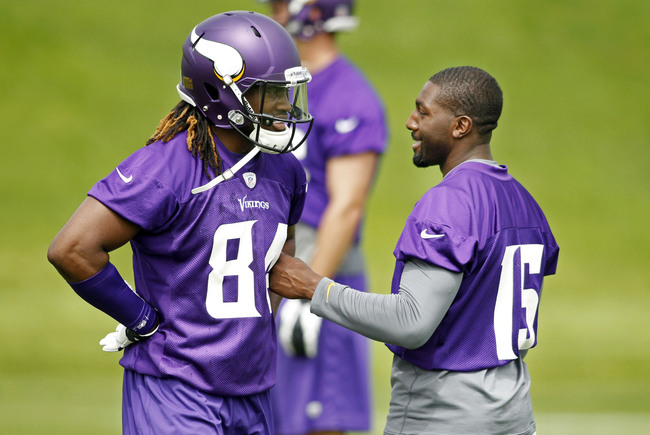 The receiving core looks very different this season compared to last season. The team added Greg Jennings through free agency and Cordarrelle Patterson through the draft. The team also cut ties with Michael Jenkins, Percy Harvin, and Devin Aromashodu. Hopefully Jennings can come in and have a Pro Bowl season after coming off a groin injury. He undoubtedly will help young guys like Cordarrelle Patterson and Jarius Wright develop. His on the field contributions will depend on his ability to simply be on the field this season.
Jerome Simpson still hasn't proved much of anything on the field. He lost the beginning of last season to a suspension, then lost the rest of the season due to injury. Even though he is considered a starter coming into camp I wouldn't be surprised if Simpson misses time in 2013.
When you look deeper into the rotation you don't see much promise. Jarius Wright, Greg Childs, Joe Webb, and Stephan Burton aren't starter material. They can contribute in the rotation as needed and will most likely see some playing time with the likelihood of injury in the main rotation. One of these guys will need to step up. I think Wright shows the most potential with his limited playing time last season. He is working into the main rotation and has a chance to prove his worth this season.
Joe Webb is the most intriguing receiver in the back up rotation. He lost a lot of valuable time as a receiver when he was forced to play quarterback. This does have some light to it: when he played quarterback he got a better understanding of pass coverages and how defenses may try and cover him.
Offense: "Development of relationship between Kyle Rudolph and Christian Ponder."
Last season was impressive for the tight end Rudolph. With the thin receiving core Rudolph became Ponder's favorite target. He made some very nice plays and caught everything he could with his large mitts. Now that Ponder has more targets to spread the ball to, will this relationship continue to develop or wither away? With that being said, I think their relationship gets stronger every time they are on the field together. He will see less targets but he will continue to be Ponder's safety blanket on play-action plays.
Secondary: "Does the secondary continue to progress as an unit?"
Harrison Smith caught fire last season and looks to continue his development as a standout safety. The coaching staff is hoping Xavier Rhodes will follow suit at cornerback. He most likely will be an asset for this season's squad. This time in training camp for him will be crucial to how quickly he can develop into a legitimate NFL pass defender.
The unproven guys at corner like Chris Cook, A.J. Jefferson, Josh Robinson, Brandon Burton, and Marcus Sherels will have to stay healthy to progress as an unit. At strong safety: Mistral Raymond and Robert Blanton will have to play well when they get their chances on the field. Hopefully training camp will give everyone a better idea of who might step up this season.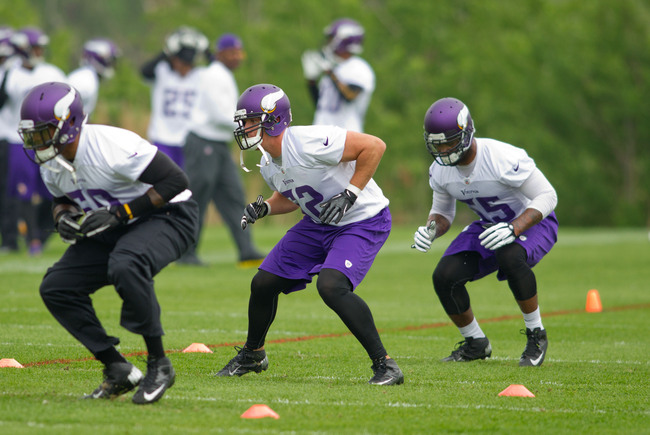 Defense: "Desmond Bishop or Erin Henderson?"
With the new edition of Desmond Bishop, will Erin Henderson step up and be the starting "mike" backer the team thinks he will be? That is a big question for the team coming into camp. The position is Henderson's to lose but Bishop will be rotated into the lineup throughout the preseason. How this situation plays out dictates the rest of the lineup.
Chad Greenway is as solid a backer coaches can ask for. But, the question marks are on the side opposite Greenway. Will Bishop get that spot or does Gerald Hodges step up? Bishop is versatile and can be moved around which is what the team needs.