(Follow me on Twitter @jim_krug; opening image credit statisflickr)
With the July 31st non-waiver trade deadline having come and passed, and a waiver trade unlikely, the Pittsburgh Pirates are left exploring internal options to fill their gaping production hole in right field, typically one of the prime power positions on the diamond.  So who can fans expect to see manning the confines beneath the looming Clemente Wall for the playoff push?
Best Option:  Jose Tabata
Positives:  Having just turned 25 years old, Tabata has the highest ceiling of the group.  The Venezuelan native is up to a .743 OPS (111 OPS+) with a strong 2nd half start.  He hits LHP and RHP equally well, and is a solid defender with an above average arm.
Negatives:  Tabata's 4 home runs here in 2013 tie his career high, which the righty has hit twice before.  While the potential and youth are still there, Tabata has only 15 total home runs through nearly 1,300 MLB at bats.  The raw power teams like to see from rightfielders simply isn't there…yet.
Quasi Option:  Garrett Jones (L)
Positives:  Having started 24 games in RF in 2013, Jones isn't considered a full-time OF option, as he spends the bulk of his playing time facing righties in a 1B platoon with Gaby Sanchez.  Having hit a career-high 27 home runs in 2012 with an excellent .832 OPS, Jones is the most established- and by far the only veteran- of the right field candidates.
Negatives:  Jones's 2013 numbers (11 HR, .718 OPS) are well below is 2012 peak, dropping him right back into the middle-of-the-pack production-wise.  Starting the 6'4″ lefty in right leaves platoon-mate Sanchez vulnerable to righthanded starters, part of the reason Jones's appearances in right (24 in 2013 vs. 66 in 2012) have dropped substantially since last season.
The Wild Card:  Andrew Lambo (L)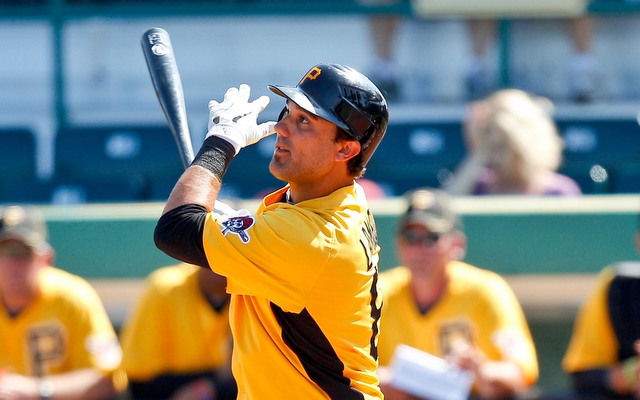 Positives:  Leading the minor leagues in home runs (31) prior to his MLB callup, the 6'3″ California native OPS'd .918 between stops at AA-AAA, and has the potential to be the lightning in a bottle that the Pirates need to inject into a lagging offense down the stretch.
Negatives:  In my opinion, the Pirates really mishandled Andrew Lambo this season.  Ideally, they should've called him up at the start of July, to give the 25-year old a full month to determine if he could be a long-term option.  Instead, the Pirates waited until mid-August to give the slugger a shot, then played him only intermittently, then quickly sent him back down with a promise to return.  Especially with a veteran-philic manager like Clint Hurdle, the Pirates just aren't going to trust an untested rookie with a significant amount of starts from here on out.  Very disappointing, as I really think- given the opportunity- Lambo could've produced here in 2013 for the Pirates.
Frequent Cameos:  Alex Presley (L)
Positives:  A minor league late-bloomer, Presley ground his way to the Majors in 2010, and has appeared every season since.  Possessing speed at the top of the lineup, Presley rarely strikes out (once every 4.75 AB), and has the defensive range of an everyday CF.
Negatives:  While Presley doesn't K much, he doesn't reach base often either.  Posting only a .274 OBP prior to being sent down earlier this month, Presley owns a career .299 OBP, with a 231 at-bat 2010 campaign being the only season in which the 27-year old finished with an OBP above .300 (.339).  Further, despite possessing speed, Presley doesn't steal all that much, collecting 19 SB (against 12 caught stealings) over the past 4 seasons.
Desperate Measures:  Josh Harrison
Positives:  Despite having played the position infrequently during his minor league career, the former Chicago Cubs' prospect continues to steal RF starts for the Pirates, sending Clint Hurdle's heart aflutter with his apparent scrappiness.  Like Presley, Harrison is surprisingly excellent at putting the ball in play, only striking out once every 7.4 at bats.  But beyond that, it's truly difficult to find any areas where the 26-year old excels.
Negatives:  Saddled with a disastrous .279 OBP and 78 OPS+ over parts of 3 Major League seasons, Harrison at least has more long-term potential than waiver casualty Brandon Inge, but that will do little to help the team in its 2013 pennant chase.  Sticking with the big league club due to positional versatility a.d.o.r.e.d. by Hurdle, Harrison should be reassigned to AAA, so that the Pirates can roll the dice on former Los Angeles Dodger farmhand Ivan De Jesus.
Long Shot to Return in 2013:  Travis Snider (L)
Positives:  Despite some memorable 2013 highlights, the former Toronto Blue Jays' #6 overall prospect (2009) cooled quickly, before landing on the disabled list in late July.  Still only 25 himself, the Pirates hope Snider can develop into the power threat the Blue Jays always envisioned.
Negatives:  Snider has posted very poor numbers during his first full stint with the Pirates (.287 OBP, .609 OPS, 74 OPS+), and unlike Tabata and Presley, is somewhat of a defensive liability in right field.  While Snider could still develop into an asset by 2014 or beyond, his chances of being a key pennant contributor here in 2013 are slim to none.
Overall, it's not an intriguing lot to choose from- at least not for the current season.  While GM Neal Huntington appears to have made a real effort to acquire a bat at the deadline, it's frustrating to see Alfonso Soriano belting home runs (.949 OPS) for the New York Yankees, when so few in-house options are available.  Hopefully one of them will step up to keep this magical season afloat.  Thanks for reading.