(Follow me on Twitter @jim_krug; opening image credit John Banks, Getty Images)
1.  With as big of a critic as I've been towards Pittsburgh Pirates' GM Neal Huntington over the years, I have to give him some credit for yesterday's waiver trade with the New York Mets, which brought the Buccos OF Marlon Byrd and C John Buck.  Although OF Alfonso Soriano is on an absolute tear with the New York Yankees, you could argue Byrd- in the midst of a career year with 21 HR and an .848 OPS- was by far the best bat traded this season.
2.  My guess- which was echoed by the ROOT Sports Broadcast Team last night- is that Buck was included more at the Mets' urging than the Pirates.  He's not a huge statistical upgrade over rookie Tony Sanchez, but Sanchez himself has looked poor in a number of late-game pinch-hitting opportunities.  Buck similarly struggles to reach base (.285 OBP vs. Sanchez's .267 OBP), but still has 15 HR on the season, and can spell Russell Martin defensively.  At minimum, Buck provides the Pirates with at least a potential power bat off of the bench, of which they've had few to choose from this season.
3.  Pittsburgh Penguins' GM Ray Shero may have to step aside as the city's only Trade Deadline wheeler-dealer.  Over the past 3 seasons, Neal Huntington has acquired all of the following in attempts to bolster the Pirates for a stretch run:
2011- Derrek Lee, Ryan Ludwick
2012- Travis Snider, Gaby Sanchez, Wandy Rodriguez, Chad Qualls
2013- Marlon Byrd, John Buck
These returns have ranged from the good (Lee) to the bad (Qualls, Ludwick) to the injured (Rodriguez), to the ineffective (Snider, Sanchez).  None of them were blockbusters by any means, but Huntington at least tried to slightly improve each club without parting with significant prospects.  I acknowledge the effort, even if the end results were not significant.
4.  I think people are really overreacting to the loss of 2B prospect Dilson Herrera to the Mets, such as this confusing rant by beat writer James Santelli:
It's a stupid trade. It's stupid to deal a top-100ish middle infield prospect and what could be a pretty good PTBNL for one month and however many playoff games of Marlon Byrd and John Buck. It's dumb, and it's easy to see Herrera as good, speedy second baseman for the 2016-2022 Mets.'
http://www.piratespr…-john-buck.html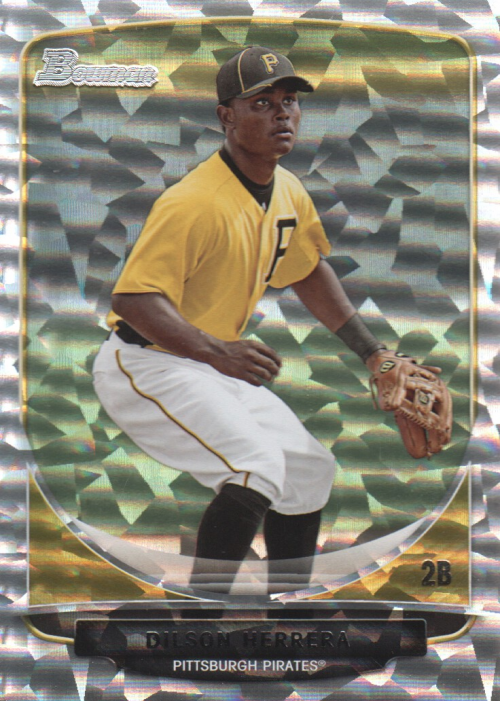 Calling Dilson Herrera a "top-100ish" prospect isn't remotely accurate in my eyes.  He is a well-regarded 19-year old player, but he's seen his OBP decline and strikeout rate climb upon reaching Low-A this season.  He's at least 3 years away from having a serious shot at the Majors.  He's very slight, listed at only 5'10" and 150 lb., and shouldn't be anywhere near a top-100 prospect list for 2014.  My guess is that he'll peak in the 150 range at best.
Herrera is the perfect type of prospect to move in a trade like this: well-regarded enough to take some heat off of Mets' GM Sandy Alderson, but not nearly an elite-level prospect that will actually hinder the Pirates for the foreseeable future.
5.  My only concern that work hurt my overall evaluation of the trade is the "PTBNL" portion of the deal.  Huntington went on record that the piece would be "significant", but that could easily be pandering and not wanting to throw a GM colleague under the bus.  Generally, players-to-be-named later are not significant; rather, the receiving team is given a list of raw, somewhat questionable names from which to choose, and have the remainder of the season to figure it out.
Extreme thoughts have ranged from serious pitching prospects like SP Nick Kingham, down to useful but not legitimate farmhands like RP Vic Black.  My hope is that the end result is much closer to Black, and much farther away from Kingham.
Overall, in what has been a brutal buyer's market since late-July, GM Huntington managed to pick up the best bat exchanged this season, and a potentially useful bat off the bench, for a solid but unspectacular prospect and a PTBNL.  If Marlon Byrd can maintain his torrid 2013 in the black-and-gold as opposed to the orange-and-blue, this could end up being an excellent trade that bolsters the Pirates' offense for a serious run beyond the NL Wild Card round.
Thanks for reading.