A great superhero's father once asked his son "Why do we fall?" He then answered with, "So we can learn to pick ourselves back up again."
For the Penn State Nittany Lions, last week's 63-14 waxing at the hands of the Ohio State Buckeyes was the fall, but what's left to be determined is how they pick themselves back up.
They'll get their chance back in the friendly confines of Beaver Stadium on Saturday when the Nittany Lions (4-3, 1-2 Big Ten) host Illinois (3-4, 0-3 Big Ten) at noon on ESPN.
And while there's no way to completely erase a defeat of that magnitude, the Nittany Lions spent the week trying to move forward, even if some knew they wouldn't totally forget.
"You've got to get back to work and forget about the past," offensive guard Miles Dieffenbach told ESPN's Josh Moyer this week.
The Penn State players got back to work this week, and started to prepare for yet another dual-threat QB in Illinois' Nathan Scheelhaase. The senior is 1-2 against Penn State in his career, with the lone win coming at Beaver Stadium in 2010, a 33-13 win.
After winning three of four to start the season (the lone loss against then-No. 19 Washington), the Illini have lost three-straight to Nebraska, Wisconsin and Michigan State. All three loses were by 20 or more points and saw the Illini defense surrender at least 39 points in each game.
But the Illinois defense isn't the only unit treading water coming into the game. The once-stout Penn State defense has allowed 44, 40 and 63 points in the last three games, including losses to Indiana and last week to Ohio State.
Even worse that the points allowed in recent weeks was the nightmarish 686 total yards the Buckeyes ran up on John Butler's defense last week, including an astounding 408 on the ground. Ohio State was clearly a cut above, but Penn State's inability to get off the field on key third downs (OSU was 7-10 on third down) killed any chance of a competitive game.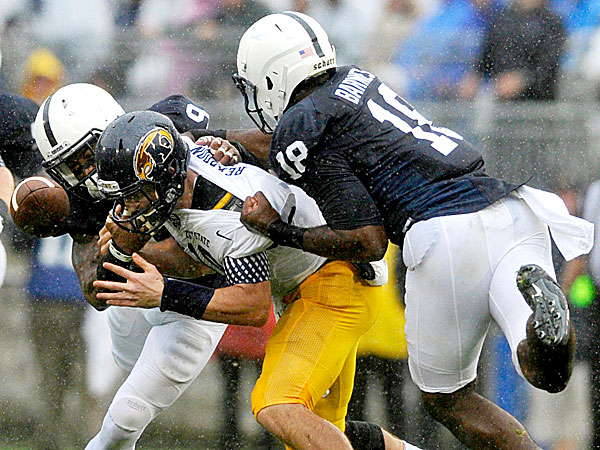 Making matters worse was a horrific tackling effort from the defense as a unit, with Buckeyes QB Braxton Miller scrambling out of pressure and arm tackles all night long.
Scheelhaase isn't quite as shifty as Miller is, but he's thrown the ball very well this season, completing 65.3 % of his passes for 1,649 yards and 12 touchdowns to just five interceptions. The Illini rank 43rd in the nation with 261 yards passing per game.
For Penn State's defense, containing Scheelhaase will be objective No. 1 on Saturday. If the Nittany Lions can keep him from making plays in the passing game, the Lions can suffocate the Illini offense.
For Penn State's offense, forgetting about last week is paramount. Freshman QB Christian Hackenberg finally showed the mistakes that a young quarterback making his seventh-career start can, and will, make.
This week the Nittany Lions' offense needs to establish some ball control early with Bill Belton and the running game and help keep the defense fresher than it was early on last week at Ohio State. Hackenberg needs to make smarter decisions in the red zone, where his interception early in the first quarter handicapped the Nittany Lions almost immediately.
Bottom line is that Penn State comes off of their worst defeat in nearly 114 years, and should bounce back with a strong effort at home in front of their beloved fans. It's always easiest to forget a crushing loss by coming back the next week and getting a win, which is the focus of the Nittany Lions on Saturday.