You want big storylines early in the season?  The NBA's got them…The team that's supposed to be at the bottom, as projected by Vegas, is sitting up top after three games.
Derrick Rose is back.  Although he hasn't played up to par, he already made a game-winning floater.
The Staples Center features some exciting games (times two) with the L.A. teams providing excitement early.
The Brooklyn Nets are clearly going to take time to mesh together, although motivation fueled them to defeat Miami.
Dwight and Harden are undefeated after three games.  How much does that really mean?  I'll leave those statements and questions up to you guys.  After one week of interesting NBA play, here are my first NBA power rankings:
30. Boston Celtics (0-3): I don't care what anyone may say or think.  The Celtics have "tank mode" written all over them this season.  They'll happily walk away with plenty of competitive losses as Coach Brad Stevens adjusts to coaching at the NBA level.
29. Utah Jazz (0-3): Utah's been competitive in all three losses thus far.  That's exactly what the organization wants: progression from young, future pieces while going out there and giving it all they've got.
28. Charlotte Bobcats (1-2): No surprise here as Charlotte is toward the bottom once again.  It looks like Al Jefferson's injured ankle might need a bit of rest before inserting him back into game action.
27. Washington Wizards (0-3): Definitely not the start the Wiz hoped for as a team shooting for the playoffs.  We'll see if John Wall can put the team back on track as it gears up to play Philly on Wednesday and Brooklyn on Friday.
26. Phoenix Suns (2-1): The Suns would probably be 3-0 had Westbrook not returned against them.  Goran Dragic and Eric Bledsoe are playing very well together as they look to set the tone in Phoenix.
25. Sacramento Kings (1-2): Huge year for DeMarcus Cousins in terms of maturing as a player and listening to his coaches.  Cousins should be in the All-Star talk as long as Sacramento shows improvement and he's putting up big numbers.
24. Milwaukee Bucks (1-2): Very easy to imagine this team, once again, being in the middle of the pack.  I'm not seeing any true franchise direction.  Keep your eyes open to see how Brandon Knight and O.J. Mayo lead the pack.
23. Orlando Magic (2-2): Victor Olidapo looks like the early candidate for Rookie of the Year, as expected.  Olidapo has already contributed a nice amount to the .500 Magic.
22. Denver Nuggets (0-2): Although it's only been two games, Denver is in jeopardy of possessing the NBA's biggest downfall from one season to the next.
21. New Orleans Pelicans (1-2): Second-year star Anthony Davis looks fantastic thus far, averaging 23.7 points, 12.3 rebounds, and four blocks.  The future looks bright for the Pelicans.
20. Cleveland Cavaliers (1-2): Kyrie Irving isn't off to a particularly great start but I'm sure he'll take the Cavs in his wing soon enough.  Winning games early is crucial for the hungry Cavs.
19. Philadelphia 76ers (3-0): Expect the Sixers see a drop in these rankings next week.  But Michael Carter-Williams is the surprise of the NBA thus far, averaging 20.7 points, nine assists, and 4.3 steals.  M.C.W. has already led Philly to wins over two Eastern Conference contenders, Miami and Chicago.
18. Toronto Raptors (2-1): Toronto is dead serious about making the playoffs this year.  An aggressive DeRozan has helped them to two wins, attacking the basket at will.
17. Atlanta Hawks (1-2): I think of Atlanta as one of those "dark horse" teams.  People don't think they have the weapons to make the playoffs but it just happens.  Al Horford averaging a double-double along with two blocks early on.
16. L.A. Lakers (2-2): That opener against the Clippers was very impressive.  Bench players, such as Xavier Henry and Jordan Farmar, were in full blown attack mode in a 116-103 victory.  Mike D'Antoni is already testing out some lineup changes, as expected.
15. Detroit Pistons (2-1): Teams in the East must beware of this new and improved squad.  The frontcourt is dangerous and very tough to break, defensively.  Andre Drummond is blossoming into an All-Star, day-by-day.
14. Portland Blazers (2-1): Coming off a rough losing streak to end last year, Lillard and the troops seem really motivated to prove their worth in the West.  Lillard took no time to get off to his red-hot shooting (25 PPG, four threes per game).
13. Brooklyn Nets (1-2): Seems like Brooklyn only came to play against Miami.  The team's been inconsistent through three games.  Look for signs of improvement in the near future.
12. Dallas Mavericks (2-1): I didn't hear too many people talking about the Ellis-Dirk combination in the offseason.  Don't take the Mavs for granted.  They're still capable of making the playoffs.
11. Chicago Bulls (1-2): Chicago is transitioning back into it's regular state with Derrick Rose still getting comfortable in a regular season game.  The team's mentality won't allow it any room for slipping.  The Bulls should be back to normal, very soon.
10. New York Knicks (1-2): They seem to have much less energy than they started with last year.  The Knicks definitely don't want to fall behind and be looking up to talented teams such as Brooklyn, Chicago, and even Detroit.
9. Memphis Grizzlies (1-2): Memphis may not have made the necessary offseason changes to get back to the Western Conference Finals.  However,the Randolph-Gasol duo remains a big threat in the West and won't be easily matched.
8. Golden State Warriors (2-1): The hot-shooting duo of Curry and Thompson immediately emerged with a couple wins in California (Kings, Lakers).  Thompson had a career-high 38 points in the opener and missed a ridiculous four out of 19 shot attempts.
7. Minnesota Timberwolves (3-0): Yes, I will continue to take the Wolves' record highly into account when ranking them.  Kevin Love and the Wolves aren't playing around this year.
6. Houston Rockets (3-0): Six may very well be too low.  I just need to see how the next couple weeks play out.  With a powerful Harden-Dwight core, this team clearly has championship potential.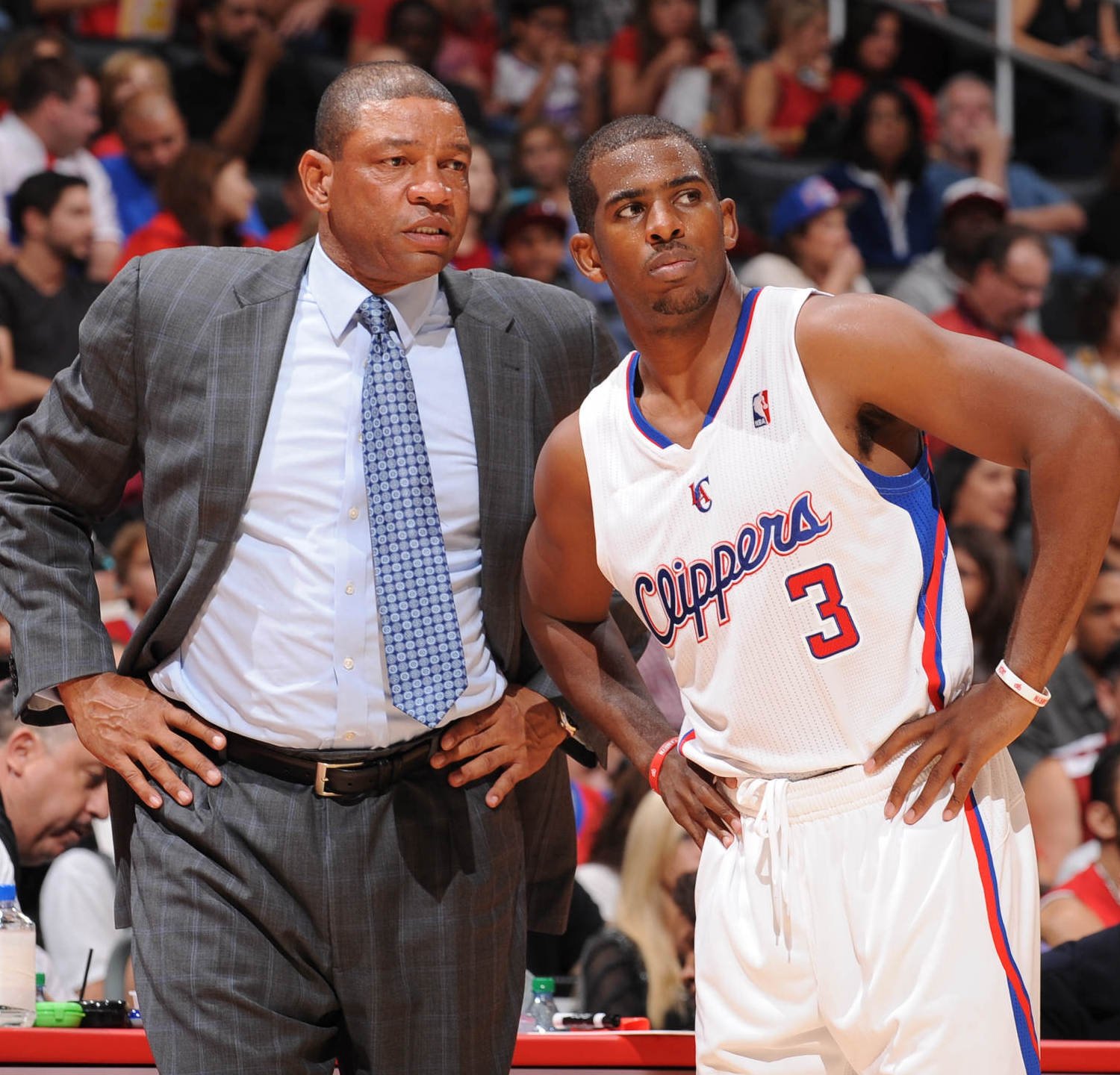 5. Oklahoma City Thunder (2-1): Russell Westbrook is back.  Let the games begin.  Oklahoma City just could not live up to its identity missing its second superstar, Russ.  K.D. and Westbrook should be back to playing the OKC basketball we've seen the last few years.
4. L.A. Clippers (2-1): Chris Paul continues to look like the best all-around point guard in the league.  With new players around him, his leadership seems to benefit the team more.  Doc Rivers' emergence has also made an immediate impact.
3. Indiana Pacers (3-0): All-Star Paul George has started off the year with a big statement, averaging 25.7 points, 8.3 rebounds, 4.3 assists, and 1.7 steals.
2. Miami Heat (2-2): It's early in the season.  We know the drill.  This isn't Miami Heat basketball at it's best.  They're just getting into a consistent rhythm.
1. San Antonio Spurs (2-1): Assuming Tim Duncan can stay in great shape all year long, I still believe the Spurs are the best team in the West.  Popovich and the Spurs don't usually make much of a fuss in the regular season.  They just stay quiet and play top-notch basketball.
Follow me on Twitter @ZTennen11