Although many teams have already played their first regular season games, the 2013-14 NCAA basketball season is most notably upon us starting Monday evening with the ESPN tip-off marathon which culminates in a fantastic doubleheader in the Champions Classic Tuesday night.  We will find out a lot about some of the top teams like Kentucky, Michigan State, Duke and Kansas, but first here is a preseason power ranking with an outlook to the glorious season ahead.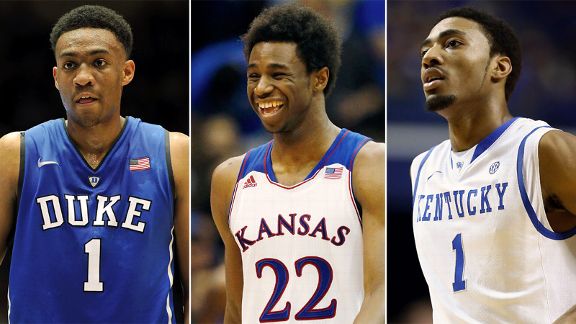 Keep an eye on:  Syracuse, Florida, North Carolina, Wichita State, Creighton, UCLA
10.          Memphis
For better or worse, we finally get to see the Tigers in a competitive conference.  It means no more February cupcakes and undefeated conference seasons, but it also means if they win 30 games again they will be much higher than a 6 seed in the tournament.
The established backcourt of Joe Jackson, Chris Crawford and Geron Johnson returns for their senior seasons.  Sophomore Shaq Goodwin returns after his highly-touted, up and down freshman campaign to give the Tigers physicality on the interior.
Coming in to help Goodwin inside are freshmen Austin Nichols and Dominic Woodson. More freshmen, Kuran Iverson and Nick King, come in to help with everything inside and out.  But the most impactful newcomer might be Missouri transfer guard Michael Dixon Jr. who has a knack for big shots.
9.            Ohio State
The Buckeyes surged last March to a Big Ten tournament title and another Elite Eight appearance.  The latter was made possible by some nutty shots from LaQuinton Ross.  Ohio State will turn to Ross to replace Deshaun Thomas by channeling his tournament play from last year.  If the talented Ross can step up as point guard Aaron Craft's running mate, then the Bucks will not miss a beat in this, Craft's senior season.
The defensive pressure from the backcourt of Craft, Shannon Scott, and Lenzelle Smith is the best in the country.  The questions for the Buckeyes lie in the paint where the untapped Amir Williams will be left all alone unless he gets help from the burly, yet unproven Trey McDonald, or freshman Marc Loving.
8.            Oklahoma State
The Cowboys return their six best players from last year, including All-American point guard Marcus Smart.  He is flanked by shooters Markel Brown and Phil Forte and the athletic, albeit inconsistent LeBryan Nash.
An X-factor could be freshman point guard Stevie Clark who could come in and allow Smart to slide off the ball at times and give the Pokes a different look.  Forwards Michael Cobbins and Kamari Murphy do a solid job of defending the post, but if junior college transfer Gary Gaskins can give them a boost inside then it will take the Cowboys to another level.
7.            Michigan
Losing Trey Burke and Tim Hardaway Jr. would be a death sentence for a lot of programs, but Michigan has the depth and recruiting to withstand it.  Obviously, replacing Burke will be the toughest task, but recall that sophomore Spike Albrecht was on his way to doing so in the first half of the National Championship game while Burke was in foul trouble.
If freshman Derrick Walton and Albrecht can combine to give the Wolverines some semblance of what Burke gave them, they will be on their way.  Plus, playing point for this team should not be difficult with scorer Glenn Robinson III, shooter Nik Stauskas, and post-scorer Mitch McGary at their disposal.
Freshman Zak Irvin will look to replace Hardaway.
All the hype surrounding Burke last year masked the fact that this was a crazy talented team.  The contributions of Caris LeVert, Jordan Morgan, and Jon Horford are often overlooked, but they give the Wolverines and coach Jon Beilein great depth.
6.            Kentucky
This season will not be as easy as many are expecting and talk of an undefeated season is silly.  The possible lack of chemistry and leadership that comes with employing an all-freshman lineup should be alarming.
An overlooked factor of the Kentucky's 2012 title run was the presence of geezer sophomores Doron Lamb and Terrence Jones, as well as glue guy Darius Miller.  Where will that come from with this team?  The only serious returnees are Alex Poythress and Willie Cauley-Stein, both of whom were disappointing last year.
Freshman Julius Randle is sure to be great, but it seems unlikely he will be as productive as Anthony Davis was in 2012.
Freshman twins Andrew and Aaron Harrison have come to man the backcourt.  Certain to bring an excess of athleticism/highlights/hype are freshmen James Young and Marcus Lee.  Frosh Dakari Johnson could be a special center, but do we honestly think the Wildcats will actually ever slow down enough to focus on getting the ball into the post?  Coach John Calipari will have a tough task trying to push the right buttons and playing the right lineups with so many options.
5.            Louisville
The Cardinals enter the season with two gaping holes from their National Championship team from a year ago: Peyton Siva at the point and Gorgui Dieng at center brought a lot to the team, namely defense.  They were the frontline and backline of the Rick Pitino pressure defense.
There are more questions with Chane Behanan's availability and Kevin Ware's health, but they both seem to be on track to return soon.  The center spot is dicey with either the improving Montrezl Harrell, redshirt senior Stephen Van Treese, or a freshman filling the void.  Without Siva's calming influence to balance out Russ Smith's ridiculousness it will be important for Smith to play smarter.  A lot hinges on ballyhooed junior college transfer Chris Jones' ability to take over at the point.
4.            Kansas
The scary part is that Coach Bill Self liked his team before number one recruit Andrew Wiggins committed.  The only holdovers are point guard Naadir Tharpe and power forward Perry Ellis, both of whom showed improvement throughout last year.
But reinforcements are coming with five impact freshmen and Memphis transfer forward Tarik Black.  Freshmen center Joel Embiid seems to be full of potential, but exactly how much of an impact he will make is unclear.  Freshman guard Wayne Selden is physical and a shooter, in the mold of Paul Pierce.  The hype surrounding Wiggins is taking a life of its own, and you have to wonder if he will check out mentally at times.
Look for a returnee who did not get much run last season to show improvement and produce, possibly guard Andrew White, or forward Jamari Traylor.
3.            Arizona
This will be a totally different team from a year ago.  Freshman forward Aaron Gordon is a program-changer worthy of praise for his combo of athleticism and basketball IQ.  Freshman forward Rondae Hollis-Jefferson is a long athlete who will fill gaps.  But the most effective addition might be point guard T.J. McConnell, a transfer from Duquesne.
McConnell is the steady point guard that the Wildcats did not have last season.  He has a nose for the ball with Aaron Craft-like defensive instincts and a sweet outside stroke on offense.  These three impact newcomers join holdovers like all-around guard Nick Johnson.
Also returning are sophomores who were coveted coming out of high school; forward Brandon Ashley and center Kaleb Tarczewski.  If those two can live up to their potential, then a national championship is not out of the question.
2.            Michigan State
One of the most experienced teams in the country and the only national contender who will not rely significantly on a true freshman, the Spartans return what could be the best starting five in the country if forward Branden Dawson is fully healthy.
Guards Keith Appling and Gary Harris, along with Dawson and inside-out big Adreian Payne all should contend for an All-Big Ten spot, which is saying something since the Big Ten will likely be the best conference in the country again.
Unselfish swingman Denzel Valentine will likely round out the starting lineup and guard Travis Trice is a nice bench player.  Depth on the inside could be an issue, and Coach Tom Izzo may need either sophomore Matt Costello or redshirt freshman Kenny Kaminski to step up down low.
1.            Duke
With all the talk about Wiggins and Randle, it seems people have forgotten that 18 months ago Jabari Parker was rated ahead of both of them at number one for this outstanding incoming freshman class.
Whether Parker is the best freshman or not, he will certainly be very helpful for the Blue Devils who lost a lot of scoring with the departures Mason Plumlee, Ryan Kelly and Seth Curry.
But Rasheed Sulaimon returns, as does sharpshooter Andre Dawkins from a redshirt season, and they along with Parker and Mississippi State transfer Rodney Hood will provide a balanced scoring attack.
Quinn Cook has been much improved at the point and between him and senior Tyler Thornton they should be solid at that position.  The question for the Dukies is the interior defense where they do have yet another Plumlee (Marshall) awaiting, but they are very thin.  The Blue Devils will hope for sophomore Amile Jefferson to man the post with his length and athleticism.  Look for Coach K to draw from his Olympic experience and play some lineups with no true bigs, as the 2012 USA team did, with Parker playing the role of LeBron.