Who are the Phoenix Suns? For years now they've been caught in the dreaded NBA purgatory (just good enough to not land a high draft pick, but not good enough to make the playoffs) with no clear path or direction set in stone. The Steve Nash era is long gone as the rebuilding Suns turn to first year head coach Jeff Hornacek and the new gunslinging GM Ryan McDonough. With potentially 4 first round picks in the prized 2014 NBA draft, and 6 1st round picks in the next two years overall, the Suns are finally moving the right direction. Not only are they stockpiling draft picks, but they are adding plenty of young assets that have bright futures in the league. The slogan in Phoenix is "Ignite the Future" and it's clear to see that the Suns are in fact "igniting" it. Now it's about where they go from here.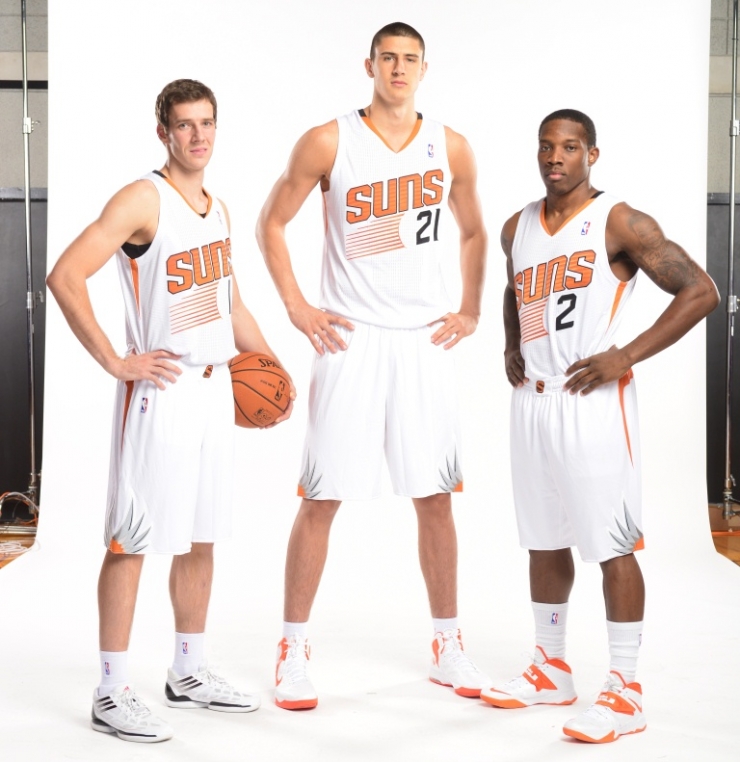 Ryan McDonough's impact: Clearly McDonough is all about building a foundation for the future, and he has gone out of his way to collect "misfits" from other teams and assemble a better-than-expected roster with plenty of key assets for the future.
Acquiring Eric Bledsoe in a 3 way trade for Jared Dudley this offseason was one of the many trades made by McDonough that looks like it will pay off now and in the future. He also struck a deal with Indiana to acquire Miles Plumlee, Gerald Green, and a 2014 lottery-protected first round draft pick for veteran forward Luis Scola. Green and Plumlee have both had career seasons (thus far) and have brought a buzz to Phoenix with their sensational high flying dunks airing all over Sportscenter's Top 10 plays.
After moving Polish center Marcin Gortat days before the season started for a protected first round pick from the Washington Wizards, many experts believed that the Suns would challenge the Philadelphia 76ers for the worst record in the NBA. Chad Ford predicted that the Suns would struggle to win a single game in the Western Conference this year.
That hasn't quite been the case.
Bledsoe, Green and Plumlee are all proving to be key pieces to the Suns future, and they've also produced enough now to keep them competitive for the time being. Markieff Morris won Western Conference player of the week from November 4th-10th and was key to their sizzling 5-2 start. Since then he's slowed down, along with the rest of the team, struggling to find any consistency due to being slowed down by nagging injuries.
Through the first 10 games of the season the Suns are the only team in the NBA to have a lead in the 4th quarter of every game they've played in. It's obviously a small sample size, but it's very encouraging to see that they are remaining competitive with this group. It's important not to establish a losing culture, especially with such a young squad.
Going forward: Player Development will be key. Shocking, I know. Suns head coaches in the past have had their difficulties of developing young talent. That mainly attributed to not distributing much playing time to younger players, and not allowing them to gain any sort of confidence or flow as the year progressed.
To be quite honest here though, it's not like there was much talent to work with in the first place. Thanks to a flurry of McDonough trades, the Suns finally have some exciting pieces in place.
Coach Hornacek has done a solid job of constructing a consistent rotation for the most part, which is key. Rookies Alex Len and Archie Goodwin will both get increased minutes as the season progresses. Len has been battling an ankle injury, but he's back on the court now and getting eased into the rotation.
Goodwin has shown flashes in the limited time he's received. Archie really impressed the Suns coaching staff with his play in the Summer League, and they believe he has all-star potential at the ripe young age of 19. As long as the Suns continue to develop their players, they will be in terrific shape moving forward.
Draft: The Suns are not tanking, but that won't stop them from having a possibility of landing a top 5 pick. With Andrew Wiggins, Jabari Parker, Julius Randle, Marcus Smart, Aaron Gordon, and Dante Exum all potentially entering the 2014 NBA Draft, the Suns could be in prime position to land one of these six potential stars. If not, no big deal, they still have plenty of picks to work with and will add a bounty of talent to their roster for the 2014-2015 season.
Put on your shades, Suns fans. The future is bright.