This Week 2 MVP Race features a very surprising name in the top five (maybe even higher).
LeBron James is finally not starting ahead of the pack this year.  He's sure to find more competition this time around.
Kevin Love has one of the best stat lines in the game.  However, his team dropped out of the playoffs.  How much does that matter?
I will address all those topics in my Week 2 MVP Race.  Let's start out with the names belonging in…
Honorable Mention: Dwight Howard (LW: 10), Blake Griffin, Klay Thompson, Stephen Curry (LW: 7), Damian Lillard, Marc Gasol
10. Kevin Love (MIN) – 25.4 PTS (2.2 3PM), 13.3 REB, 4.8 AST, 0.8 STL, 0.4 BLK.   Team Record: 7-6.   Last Week: 5
After dropping three of its last four games, Minnesota has fallen one spot out of the playoffs.  Obviously, a couple wins and they are right back in there.  However, Minnesota isn't a team that wants to be playing from behind, mid-season.  Kevin Love's averages in the last week have dipped all across the board.  While 11.3 rebounds is considered great for most players, for him it's somewhat disappointing.  Love shot 2-for-14 in the Wolves' second loss to the Clippers this season.  With that said, I'd fully expect Love to recover from that awful performance and put the team back on track in the next week or so.
9. Al Horford (ATL) – 17.4 PTS (56.2 FG%), 8.2 REB, 2.8 AST, 1.3 STL, 2.1 BLK.   Team Record: 7-5.   Last Week: NR
The overlooked Hawks are off to another solid start this year.  When the team's successful, it starts with the admirable all-around contribution from Al Horford.  The Hawks are a bit below average on interior defense.  However, Horford is usually able to counter that with his sound production on offense.  The Hawks rank atop the league in assists/FGM as well as assist/TO ratio.  Much of that is because Horford is great at converting off passes from his teammates, whether it's with a mid-range jumper or a quick post move.
8. Dirk Nowitzki (DAL) – 20.6 PTS (42.6 3P%), 6.0 REB, 2.6 AST, 1.3 STL, 0.4 BLK.   Team Record: 8-4.   Last Week: NR
Dirk Nowitzki just recently passed Reggie Miller and took over the 15th spot on the all-time scoring list.  We know by now:  Dirk Nowitzki has been one of the ultimate scorers this game has seen.  Although he can't move as well as he used to and his legs are slowly giving out, Dirk still burns opponents with his signature back-down, fadeaway.  Dirk is capitalizing on any amount of space defenses are giving him this season, connecting on about 43 percent of his three pointers and making 1.9 per game.
7. James Harden (HOU) – 24.2 PTS (2.1 3PM), 5.4 AST, 4.8 REB, 1.8 STL, 0.8 BLK.   Team Record: 8-5.   Last Week: 9
This year, Harden has loftier expectations with Dwight Howard by his side and one more year of experience.  Some of Harden's weaknesses, such as lack of defensive effort and questionable shot selection, are standing out more this season.  Harden needs to focus on both of those areas as the necessary improvements will only better Houston's case to compete for the Western Conference title.  With that said, there are important positives that continue to be evident in Harden's game: he delivers when his team needs a bucket, most of the time by drawing contact and getting to the free throw line.
6. Chris Paul (LAC) – 19.3 PTS (94.8 FT%), 12.5 AST, 5.2 REB, 2.5 STL, 0.1 BLK.   Team Record: 8-5.   Last Week: 3
No guard is controlling the game as well as Chris Paul is right now.  With both Blake Griffin and DeAndre Jordan improving, he's able to feed them more in the paint.  Paul's assist opportunities have also increased with J.J. Redick, who's proving to be a big upgrade over last year's starting wing player(s).  Paul might be the only player who isn't the least bit concerned about scoring much in the first three quarters but who makes it look effortless in the fourth.  Think of all the fourth quarter players: LeBron, Durant, Melo, Westbrook.  All of them prefer to get it going right from the start and consistently score throughout the game.  In the last game against Minnesota, Paul went into the fourth with just nine points but finished with 20 as he sank three consecutive shots to put away the Wolves.
5. LeBron James (MIA) – 25.6 PTS (60.1 FG%), 6.8 AST, 5.5 REB, 0.8 STL, 0.3 BLK.   Team Record: 9-3.   Last Week: 6
Not only his skill-set today makes him one of the greatest, but the tremendous growth as a person and as a player he has shown throughout his career.  James' mindset in his first couple years was to go out there and score 30 points per game.  Through all the ups and downs, James is at the point where he knows exactly what he needs to do to win.  He also knows exactly what his teammates need to do in order for the team to win another championship.  Shooting 60 percent this season?  That would really be something.  But let's put all the stats aside for now because we know he's the king of statistics.  It is clear that James makes the biggest impact on his teammates, more than Durant and more than Chris Paul.
4. Tony Parker (SAN) – 18.5 PTS (53.8 FG%), 6.1 AST, 2.6 REB, 0.5 STL, 0.1 BLK.   Team Record: 10-1.   Last Week: 2
I would love to see Tony Parker lead the Spurs to the best record in the NBA and bring home that MVP trophy.  I don't think it's out of the question.  However, it's unlikely because of the presence of other overpowering players (LeBron, Durant, maybe Paul).  Chris Paul's stats are always significantly better than Tony Parker's.  But Tony Parker always beats him.  It appears as though Tim Duncan may finally be on his last legs.  Considering how far Parker has come, this team is now his.  One big difference between Parker and other stars: you'll seldom find Parker forcing the action.  He takes the shots the defense gives him and he's extremely patient with the ball.  We see Durant and even LeBron lose their composure from time to time.  However, Tony Parker always seems cool, calm, and collect on the basketball court.
3. LaMarcus Aldridge (POR) – 22.6 PTS (48.4 FG%), 9.2 REB, 2.3 AST, 1.0 STL, 0.8 BLK.   Team Record: 10-2.   Last Week: 8
Yes, LaMarcus Aldridge is really number three in my MVP race.  Ahead of the likes of LBJ and CP3.  Pretty impressive.  We'll see how long this can last, though.  "This," being how exceptionally well the Trail Blazers are playing right now.  Critics expected Portland to be a borderline playoff team at best.  Aldridge and the Blazers are making us all think twice.  I wouldn't call the eight-year veteran underrated, but people aren't exactly boasting about the one-time All-Star's accomplishments.  Aldridge's offensive game is nearly flawless.  He has the perfect balance of post-up moves and jumpshots.  Now, it's starting to show more because the pieces around him are all coming together.
2. Kevin Durant (OKC) – 29.5 PTS (10.8 FTM), 6.9 REB, 5.5 AST, 1.4 STL, 0.5 BLK.   Team Record: 8-3.   Last Week: 4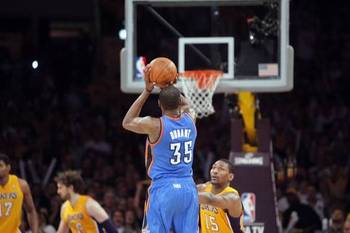 Two things I want to address: 1) Kevin Durant's fourth quarter scoring.  It's just an unsolvable problem for the other team.  He's going to get buckets by any means necessary.  That's why you need to outwork OKC in the first half to have a chance to beat them. 2) KD's assists (at 5.5 per game).  Durant has done a great job getting his teammates involved this season.  He's adapting to becoming a LeBron-like point forward.  Durant benefits OKC at point guard because he's able to do anything: he beats defenders with ease, he's improved at quickly finding the open man, and he can, obviously, finish at the hoop or pull-up for a jumper.
1. Paul George (IND) – 24.4 PTS (2.3 3PM), 6.8 REB, 3.3 AST, 1.7 STL, 0.5 BLK.   Team Record: 10-1.   Last Week: 1
PG24 remains atop my MVP Race through the first two weeks of the season.  Kevin Durant or LeBron James could make a surge and take this spot at anytime.  But as long as the Pacers are a consistent, top two team in the East, George is going to be the man most responsible for their success.  Last year, there were several games where George could not find his shot.  This year, he seems to better understand how to break down the defense and make the right play.  In this day and age, small forwards make an outrageously large impact on the game.  Durant and James have been the household names because of that.  However, with the all-around contribution George gives his team on a daily basis, he could, very soon, belong with those two.
Follow me on Twitter @ZTennen11