If you haven't gotten accustomed to my power rankings on isportsweb.com, then get used to it because I'm not going anywhere. I'm here to deliver you folks with the very best rankings and analysis.
But before I digress, let's talk NBA.
How 'bout them Blazers?  It's still early but they are scorching hot.
Do we think they're a legitimate Western Conference contender?
30. Utah Jazz (1-14, Even): This appears to be the one team happy settling in at the bottom.  As long as their young pieces are giving substantial effort and showing improvement, the organization will remain content.  Derrick Favors is one of a handful of players averaging a double-double (13 points, 10 rebounds).  He isn't an easy body to move away from the basket.
29. Milwaukee Bucks (2-10, Even): That overtime loss against the Sixers was absolutely crushing.  I mean, Spencer Hawes is a pretty good shooter.  However, it's inexcusable to let him single-handedly come back in a game that should have been out of Philly's reach.
28. Orlando Magic (4-9, Down 5): Nikola Vucevic is another player averaging a double-double and I see him keeping that up all season long.  Forward Mo Harkless is really struggling this season after having a promising year in 2012-13.  The Magic are patiently waiting for Tobias Harris, a star potential, to return to the lineup.
27. Cleveland Cavaliers (4-10, Down 2): The young Cavs have had a rough start to the year.  They still look like an inexperienced group trying to find its way.  The organization supposedly has a plan for success with Kyrie Irving leading the pack, but we need to see stepping stones being put in place.
26. Boston Celtics (5-10, Even): Jeff Green has been generating somewhat a lot of talk around the league recently.  Is he an All-Star?  Well, he's only averaging just over 15 points.  In his situation, that's not good enough to be named an All-Star.  Green has yet to prove he can be their go to-guy on a nightly basis.
25. Brooklyn Nets (3-10, Down 9): I think Brooklyn expected this early season collapse even less than we did.  In the summer, it was all talk about them competing for a championship.  I guess they didn't think there were possible consequences involved with this very talented, but high-risk team.
24. Sacramento Kings (4-9, Up 4): This will very likely be another season of the Kings failing to reach the playoffs.  The organization just seems to be stuck in the mud.  Even a team like Phoenix is showing some improvement and excitement.  Outside of DeMarcus Cousins, Sactown isn't providing much for its fans.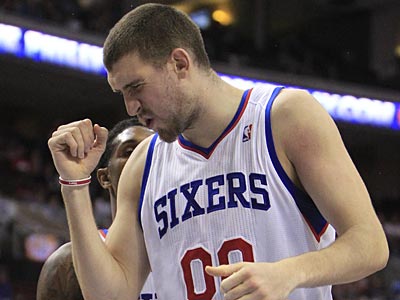 23. New York Knicks (3-9, Down 3): The Knicks are going to start winning games.  The injury to Tyson Chandler is killing them as he's the backbone to their defense.  They'll have to continue to play through it while hoping to get better production from motivated backups like Kenyon Martin and….Amar'e Stoudemire, if he ever becomes motivated again.
22. Philadelphia 76ers (6-9, Down 4): Michael Carter-Williams has approached his rookie season like Damian Lillard did last year.  Lillard felt he was ready to compete with the best point guards, as does M.C.W.  Spencer Hawes is playing like an All-Star center.  Not to mention, he also served as Mr. Clutch, splashing in threes to make an improbable comeback against Milwaukee.
21. Washington Wizards (5-8, Up 6): John Wall and the Wizards are starting to play like a hungry team pushing to be in the postseason.  The backcourt of John Wall and Bradley Beal is already becoming one of the strongest in the NBA.
20. Charlotte Bobcats (7-7, Up 2): Charlotte's time of competing for worst team in the league is done.  If you watch their games, you can tell they play as hard as any team in the league.  The Bobcats have fared pretty well even with an injured Al Jefferson.  Charlotte ranks near the top in defensive efficiency.  Michael Kidd-Gilchrist is doing a great job being aggressive on defense with opposing talents.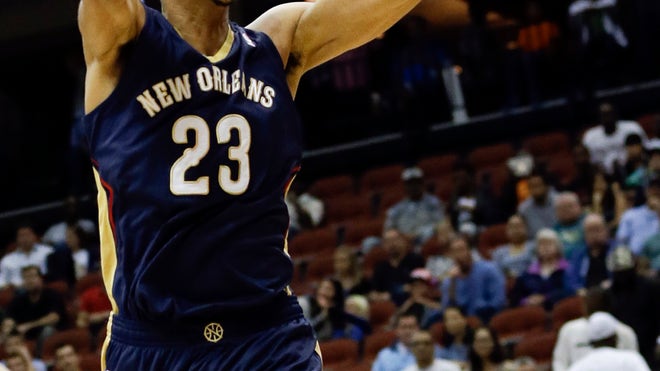 19. Detroit Pistons (5-8, Up 6): The Pistons were disappointing in dropping two straight games to Atlanta.  This team, on paper, is a very good team.  It's going to take time to put everything together.  Rodney Stuckey is doing a fantastic job carrying the offense.  Andre Drummond is active on defense every night.
18. New Orleans Pelicans (6-6, Up 1): All signs are pointing toward Anthony Davis being named an All-Star in his sophomore season.  He's made an incredible jump in just one year, improving in just about every area.  Davis has the makings of a young Kevin Garnett.
17. Phoenix Suns (7-6): Through thirteen games, Phoenix is impressively in the middle of the pack.  Even when key players are injured (Eric Bledsoe), role players are stepping up and competing hard.  Players such as P.J. Tucker and Miles Plumlee have made this defense much more competitive.
16. Toronto Raptors (6-7, Up 5): Like the Pistons, the Raptors are another team with some solid talent on paper.  Toronto is easily capable of making the playoffs but it must find a way to improve its outside shooting.
15. L.A. Lakers (7-7, Even): It appears as though the Black Mamba is getting closer and closer to a return.  I am really looking forward to seeing how much of an impact he makes in the Western Conference.  The stakes aren't as high as they were last year.  I think he has a great opportunity to step in and do what he does.
14. Denver Nuggets (6-6, Even): Ty Lawson still has the mile-high city feeling like a playoff atmosphere.  The Pepsi Center continues to be a very high-energy building.  Ty Lawson has taken another step up and become an even more aggressive offensive player.  Lawson is averaging 22 points and 8.6 assists.
13. Chicago Bulls (6-6, Down 4): Things were unfolding and Chicago was getting back to the norm of playing winning basketball.  Then a sudden panic hit them: D-Rose went down, again.  Another lost season.  Will the Bulls play their hearts out as they did last year or are changes in store?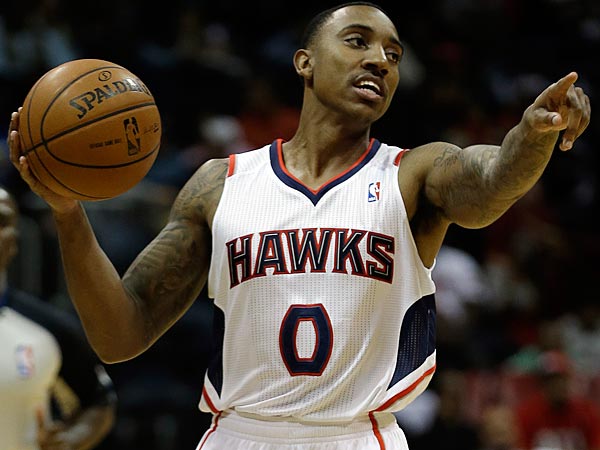 12. Minnesota Timberwolves (8-7, Down 4): Games coming up: IND, DEN, DAL, OKC, SAN, MIA.  I hope K-Love and the Wolves can hang tough.  Kevin Martin is back to his comfortable scoring zone at around 23 points per game.  The team's offense is now a consistent top ten threat in the league.
11. Atlanta Hawks (8-6, Even): It seems like there are just so many young point guards with All-Star potential.  Well, Jeff Teague has become one of them.  Teague is playing fearless and the Hawks may be on track to ending the season as a top five seed in the East.
10. Memphis Grizzlies (7-6, Up 2): The loss of Marc Gasol is a killer for the Grizz.  This team won't be the same as long as he's not on the floor.  Gasol has become the center piece of the franchise and the team's defense revolves around him.
9. Golden State Warriors (8-6, Down 2): This offense has become so dynamic that a healthy Warrior team can safely be considered a Western Conference contender.  But Stephen Curry's ankles seem to be dinged up fairly often.  Andre Iguodala is now out indefinitely with a hamstring injury.  We'll see if Curry can stay healthy and run this well-equipped offense.
8. Dallas Mavericks (9-5, Up 5): The presence of explosive guard Monta Ellis has brought the Mavs back to life.  When Dirk and Ellis are on the court together, it opens up plenty of opportunity for the other three players.  However, the Mavs can find their defense being taken advantage of at times.
7. Houston Rockets (9-5, Down 1): The Rockets are first in points per game as well as rebounds per game.  The potential of being crowned the new champion is there.  As usual, Dwight Howard is holding his own on the defensive end.  A lot depends on the production of the bench and outside shooters.
6. L.A. Clippers (10-5, Down 1): When Chris Paul and Blake Griffin are at their best together, it's difficult to beat this team.  This season, it seems to be more about the will to win and less about the flash.  Both, Griffin and DeAndre Jordan, are becoming more sound offensively and constantly attacking the glass.
5. Portland Trail Blazers (12-2, Up 5): The Blazers aren't playing games.  They're going into other teams' arenas and taking care of business (7-1 road record).  LaMarcus Aldridge is the focal point of this offense and Damian  Lillard keeps the motor running.
4. Oklahoma City Thunder (9-3, Up 1): I think Scott Brooks should consider giving Kevin Durant and Russell Westbrook a few games off, independent from each other.  These two players expend so much energy running this team.  The 2014 playoffs will be critical for the future of this franchise.
3. Miami Heat (10-3, Even): I had a tweet regarding Miami being too close in all these games against subpar teams.  Somebody replied, "Miami doesn't care about November basketball."  That statement is kind of true if we're going to exaggerate just a bit.  The Heat have proved the regular season is basically their time to prepare for the real thing, the playoffs.
2. Indiana Pacers (12-1, Even): With Derrick Rose out of the mix again, that just about assures Miami will be the only team in Indiana's way.  The Pacers continue to play brilliant basketball and show no signs of slowing down.  The team defense is still dominant and they've taken their offense to the next level due to being deeper and more skilled this year.
1. San Antonio Spurs (12-1, Even): The Pacers and the Spurs are two very similar teams.  Both rely on full team effort and don't condone taking a day off.  The main difference is the age of the Spurs.  However, I'm pretty sure that's not stopping them from remaining a top two team in the West.
Follow me on Twitter @ZTennen11