On this day of giving thanks, not only are fans of the Pittsburgh Pirates appreciative of the team's spectacular 2013 season (I honestly still can't believe that the Pirates made the playoffs.  Being at the Wild Card game in person seems like a dream to me), but in particular for new National League Most Valuable Player Andrew McCutchen.
Talk about a blessing!  Originally drafted 11th overall by former GM Dave Littlefield in 2009, the 5'10" fleet-of-foot centerfielder rose quickly through the system, struggling only briefly at the offensive wasteland that was AA Altoona's Blair County Ballpark (now called People's Natural Gas Field, after finally selling out to corporate interests).  Making his MLB debut early in the 2009 season, McCutchen has been the model of consistency ever since, evidence by his phenomenal OPS+:
2009 debut:  121 OPS+
2010:  121 OPS+
2011:  130 OPS+
2012:  162 OPS+
2013:  158 OPS+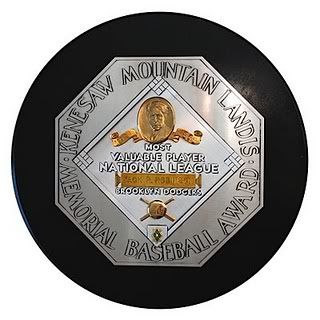 McCutchen arguably had a more productive 2012 season (31 HR, 96 RBI, .953 OPS) than his MVP-garnering 2013 (21 HR, 84 RBI, .911 OPS) but finished 3rd behind the similarly excellent seasons of C Buster Posey of the San Francisco Giants and (probably juicing) OF Ryan Braun of the Milwaukee Brewers.
Still, although voters aren't supposed to factor in anything outside of the current season, having back-to-back years of high production had to help McCutchen in 2013, as did the story of the Pirates' own amazing run of breaking the longest losing streak in North American sports history.
I'm not surprised that McCutchen won the award, but am stunned that he swept the voting in such dramatic fashion, receiving 28 of 30 first-place votes (with 3rd place finisher C Yadier Molina of the St. Louis Cardinals picking up the other 2).  I expected more of a voter push for MVP runner-up 1B Paul Goldschmidt of the Arizona Diamondbacks, who led in the NL in ALL of the following categories:
HR (36, tied with Pirates' 3B Pedro Alvarez)
RBI (125)
SLG (.551)
OPS (.952)
OPS+ (160)
TB (total bases, 332)
IBB (19)
But in the end, I believe McCutchen was rewarded not only for his production on the field and importance to the Pirates, but vitality to the image of Major League Baseball on the whole.  What we have here is a true role model that has yet to make a single misstep- in his public or private life- during his 5-year MLB career.
Not that there haven't been obstacles.  McCutchen has navigated a tricky ownership/management situation in Pittsburgh, most years being the only player of high profile on the entire team.  Yet he avoided ever critiquing the organization, and signed a ridiculously friendly 6-year, $51.5MM contract extension that was probably less than half of what the righthanded bat could have banked on the open market.
If the Pirates can't use that savings to build a quality team around McCutchen over those 6 years, they have little excuse.  The All-Star CF is saving the team $10,000,000-15,000,000 per year on his own "fair market value", not to mention all the fans that come to games primarily to watch McCutchen play, and buy merchandise bearing his name and likeness.
But it's impossible not to root for McCutchen, or feel proud when wearing his jersey.  Not aloof or confrontational like Brian Giles and Jason Kendall, and far more personable and dynamic than Jason Bay, Pirates' fans are treated to a marquee player in his prime whose passion and compassion extend far beyond the foul lines.  He is an asset to Pittsburgh, as well as Major League Baseball- whose nationwide marketing of McCutchen is still only in its infancy, but is growing steadily.
So on this day of thanks, Pirates' fans everywhere will probably sneak McCutchen silently into the back ends of their standard blessings for home and family.  The National League MVP has become a vital part of the Pirates' family, and hopefully the organization does everything to keep McCutchen in black-and-gold for years to come.  Thanks for reading.