Entering the year, the Phoenix Suns had only one game scheduled to be nationally televised. They couldn't complain much though, given their low expectations and struggles a year ago.  Phoenix is now boasting an impressive 19-11 record and sit a half game back from the Clippers for first place in the Pacific Division. Their stellar play has given the national media no choice but to take notice.
ESPN just recently added two more Suns games to its slate.
 January 8th in Minnesota.
 January 22nd in Phoenix vs. Indiana.
That's a good start. They also had a ten minute segment of the NBA crew praising Jeff Hornacek, breaking down each player individually, talking about how exciting they are to watch and it went on and on. Yahoo's Adrian Wojnarowski wrote a great piece on the Suns (must read if you're a Suns fan.) https://sports.yahoo.com/news/suns–surprising-season-began-with-change-in-philosophy-025610267.html
Bill Simmons even tweeted out some praise towards the Suns last night saying, "I'm at Clips-Suns. Hornacek is terrific. His team is well-prepared and playing hard. Guys on bench are locked in. Really fun to watch."
Yesterday morning I woke up and saw an Eric Bledsoe article headlining ESPN's NBA front page titled "Rising Sun". Marc Stein also listed Eric Bledsoe as his favorite to win the Most Improved Player of the Year award and listed the Morris twins as candidates as well. It's nice to see these hard working Suns get the recognition they deserve even if the rest of the world is a little bit behind on noticing.
Interesting tidbit from ESPN's Adam Reisinger, "Phoenix awoke Monday still on track to have four first-round picks in June — Washington's, Minnesota's, Indy's and its own — even amid this Cinderella start. Lots of time for things to change, of course, but pretty tantalizing."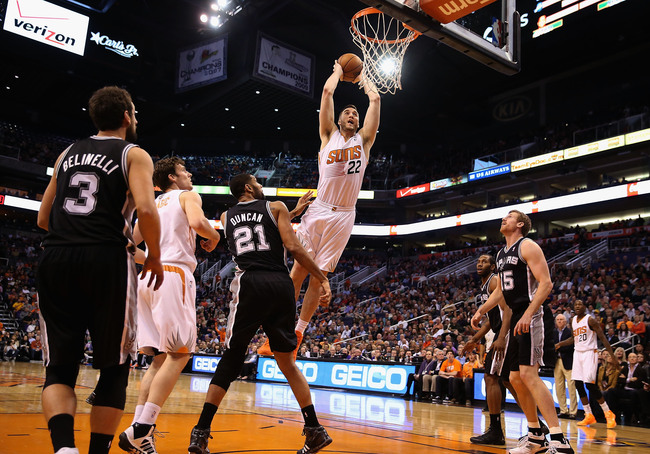 If the season ended today the Suns would be the sixth seed in the Western Conference and would be matched up against the Portland Trailblazers in the first round. There's still four months of season left to play, and plenty can happen, but this city desperately needs the Suns to make the playoffs after the Cardinals just recently missed out on the playoffs despite an impressive 10-win season.
Last night, Phoenix destroyed the Los Angeles Clippers by the score of 107-88 in the Staples Center. Goran Dragic led the way with 26 points, 8 assists and 5 steals in an impressive effort against the league's best PG, Chris Paul.
After their worst outing of the season on December 27th against Golden State, the Suns have bounced back to end 2013 very nicely and have won their last two games in convincing fashion over the 76ers and the Clippers. Up next are the Memphis Grizzlies at home, then the Milwaukee Bucks at home as well, where Phoenix is 11-4 this season.
Phoenix has won 10 of its last 12 games and will look to extend that mark with their next 8 opponents on their schedule below .500.
Next 5 games: 
vs. Memphis
vs. Milwaukee
@ Chicago
@ Minnesota (ESPN)
@ Memphis
I predict them to go 4-1 in this 5 game stint.
Read more Suns rumors, news and opinion on our Phoenix Suns page