The Suns front office has received a lot of scrutiny over the years with their decisions regarding personnel and with how they have chosen to spend their money. Suns owner Rob Sarver has been labeled "cheap" many times, but is there an alternate universe in which maybe Rob Sarver isn't cheap with his money? Is he actually choosing to spend wisely rather than appease the crowds temporarily and overpay for players they shouldn't? Maybe so. This is a list I compiled of some of the best decisions made by the Phoenix Suns front office over the years.
1) Not Re-signing Amare Stoudemire- At the time, some Suns fans were upset with the Suns unwillingness to bring back Amare Stoudemire. Amare stated himself that if the Suns would've guaranteed the money– all of it– that he would've indeed returned to the Valley of the Sun. The front office refused to give a player with multiple knee operations and eye surgery north of $100 million guaranteed.
Amare then bolted to the Knicks to join Melo and form what was supposed to be a dynamic 1-2 punch. That hasn't quite been the case. He's now in his fourth season with the Knicks and has only managed to appear in 179 of a possible 277 games for the Knicks. That's a total of 44 games played per season, though he still has 51 games remaining this year to help boost that number if he stays healthy. He's seen a decrease in scoring each year, too.
Amare's Numbers Per Game By Season:
2010/2011- 25.3 ppg, 8.2 rpg and 1.9 bpg in 78 games played. 
2011/2012- 17.5 ppg, 7.8 rpg and 1.0 bpg in 47 games played.
2012/2013- 14.2 ppg, 5.0 rpg and 0.7 bpg in 29 games played.
2013/2013– 8.9 ppg, 3.8 rpg and 0.5 bpg in 25 games played.
It's clear to see the decline in statistics and games played with each year that goes on. He was definitely not worth the money. Phoenix would've been stuck with an ugly contract for the next two years while getting little production from their former number 9 pick in the 2002 draft
2) Trading Steve Nash- The face of the franchise. The icon. The former two time MVP. Nash was a legend in Phoenix and it was very difficult to trade him, especially to the Suns rivals,(Lakers) but it has proven to be the right choice. It was time.
Phoenix landed two first rounders and two second rounders for him which is incredible considering he was a free agent at the time. Archie Goodwin ended up being one of the picks from the Lakers (through a series of team swaps and trades) and they will receive one more first rounder in 2015 from Los Angeles. Considering Nash has hardly played for LA it looks like a steal for Phoenix. Letting go of Nash also allowed Phoenix to sign Goran Dragic that same offseason which has proven to be a great signing.
3) Bringing back Goran Dragic- Bringing back Dragic must've been hard for Lon Babby. Goran was the point guard he (Lon) traded away the previous year, for Aaron Brooks. (not to mention they included a first rounder with Dragic) He admitted it was a mistake to trade Goran in the first place during the press conference in Dragic's return and jokingly said, "if we never traded Goran then he wouldn't have gotten the opportunity to breakout in Houston like he did."
Ultimately, it was good to see the front office man up and admit their mistake and bring back a player that was not only a fan favorite, but a good all-around team player with plenty of upside. The contract has proven to pay off, as Dragic signed a steal of a deal for Phoenix and is under contract for another two years.
4) Trading away Scola, Butler, Dudley and Gortat- Many thought the Suns were just trying to tank and get rid of veterans that would help them win by trading away these four savvy vets. The fact is, Phoenix turned those four players into two first round picks, Eric Bledsoe, Miles Plumlee, Gerald Green and Ish Smith. It's really incredible to see what McDonough has been able to accomplish in his short time in Phoenix.
5) The Jersey Change- I know this isn't a transaction or anything, but I really like the new uniforms. Some Suns fans were a little skeptical during the introduction of the jerseys on stage at the Scottsdale Fashion Center, but they look much nicer on the court.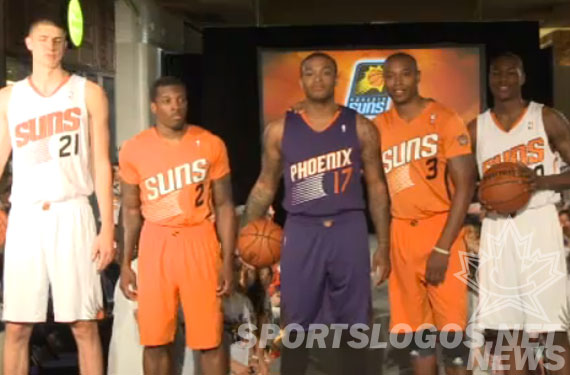 The old uniforms were just too bland and simple for me, it was time for a change. With the Nash era long gone, I thought this was the appropriate time for the change. It gives the Suns a  fresh new look as they continue to strive towards creating an identity. Not a fan of the orange sleeved jerseys however, I don't think sleeves should be allowed. Ever.