We have reached roughly the halfway point of the 2013-14 NBA season.  There are special awards to be given out.  However, these awards aren't final.  NBA mid-season awards don't translate to end-of season awards, not by a long shot.  We're only halfway home.
Coach of the Year:
Third Place – Frank Vogel (IND)
Vogel could easily win Coach of the Year when it's all set and done.  He has Indiana playing with exceptional discipline.  His gameplan always seems to work out for the best.  He's also great at interacting with his players while being a teacher of the game.
Runner-up – Terry Stotts (POR)
Stotts made a vow to improve Portland's defense coming into the season.  Although their defense remains only mediocre, the Blazers' activity on the glass has somewhat negated any defensive troubles.  On the other side of the ball, this young, athletic team is absolutely cruising.
Winner – Jeff Hornacek (PHX)
We're halfway into the season and Phoenix is seven games over .500.  Nobody, and I mean nobody, expected Phoenix's season to be playing out this way.  These players are hungry to make a name for themselves.  Hornacek has hard work exceeding talent.
Defensive Player of the Year:
Third Place – LeBron James (MIA)
Miami ranks third in the NBA in opponent fast break efficiency.  That all starts with LeBron James sprinting back on defense.  We all know his offensive mechanics are flawless.  However, James also plays defense at a very high level.
Runner-up – Serge Ibaka (OKC)
Ibaka is fourth in the league with 2.4 blocks per game.  Long defensive stoppers such as Anthony Davis and DeAndre Jordan have jumped ahead of him in that category, however, Ibaka is probably the most active defender of the three.  He has an innate ability to contest midrange jumpers.
Winner – Roy Hibbert (IND)
This award is Hibbert's to lose.  He's perfected the post defense role over the last few years.  Hibbert is a top-notch basket protector on a team that relies on its superb defense night-in and night-out.  Indiana allows only 34.8 points in the paint per game, 2 points less than the second-place Bulls.
Most Improved Player:
Third Place – Lance Stephenson (IND)
Some may view Stephenson as the favorite to win Most Improved Player.  However, Stephenson has a lot of company in the running for this award.  Stephenson started to blossom at the end of last season.  Now, he's translating his skill into all-around numbers.
Runner-up – Terrence Jones (HOU)
I sure hope voters don't forget about Terrence Jones.  Last year, Jones was nothing more than a prospect who provided a spark off the bench.  Over one summer, Jones has become a reliable starting power forward who excels around the basket.
Winner – Isaiah Thomas (SAC)
Although I don't think it will happen, I'm really pulling for Thomas to win this award.  In my eyes, he completely deserves it.  Thomas was the last pick of the 2011 draft and he's worked his way up over the past two years to become a consistent starter.  The 5-9 point guard plays with no fear.
Rookie of the Year:
Third place – Victor Oladipo (ORL)
When he entered the draft, Oladipo was being compared to a young D-Wade.  While they are both athletic combo guards, Oladipo is not the scorer Wade was.  Oladipo has looked fairly comfortable slashing to the basket.  However, he has a lot of improvement to be made on the offensive end.
Runner-up – Trey Burke (UTA)
If it weren't for his injury to start out the year, Burke could be the leading candidate.  That's not a guarantee, though.  Burke was king in the clutch at Michigan.  Although he hits big shots for Utah, that isn't what stands out to me.  Rather, his great leadership and court awareness have been most impressive.
Winner – Michael Carter-Williams (PHI)
M.C.W. has arguably been Philly's most valuable player this season.  Carter-Williams immediately took the NBA by surprise with his unbelievably balanced game.  Teams were doubting whether he could shoot the rock at an efficient level.  However, M.C.W.'s all-around impact has been tremendous: 17.5 PTS, 6.7 AST, 5.9 REB, 2.5 STL.
Sixth Man of the Year:
(Note: Reggie Jackson has started many games because of Russell Westbrook's inactivity.)
Third Place – Markieff Morris (PHX)
Markieff, and his twin brother Marcus, have both been key contributors to Phoenix's brilliant half-season effort.  The Suns rely on depth.  If Goran Dragic is having a bad game, someone like Gerald Green will step up.  Morris has done a great job giving Phoenix that extra effort off the bench.
Runner-up – Manu Ginobili (SAS)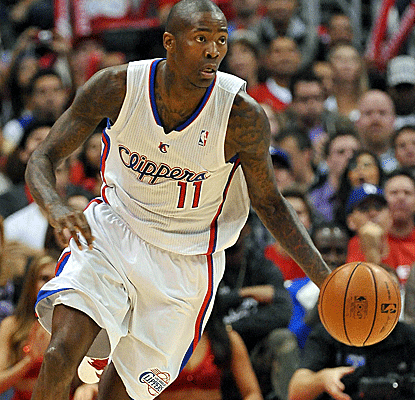 Once again, Ginobili finds himself in the conversation for Sixth Man of the Year.  Over the last couple years, Ginobili has developed a comfortable niche off the bench, and usually makes the most of his minutes.  He remains one of the key players on an unforgettable Spurs team.
Winner – Jamal Crawford (LAC)
Jamal Crawford has started a bunch of games due to J.J. Redick being sidelined.  However, Redick has returned back into the lineup.  It really doesn't matter when Crawford sees his first game action.  He comes in the game for one purpose: getting buckets.
MVP:
Honorable Mention – Paul George (IND)
It's just too difficult to exclude Paul George from this list.  PG24's team has the best record in the NBA.  However, a case could be made for three other superstar talents.  George's time will come (if Durant and James don't hog all the MVPs.)
Third Place – LaMarcus Aldridge (POR)
This spot was either George or Aldridge.  Both have obviously carried a tremendous workload for their teams.  However, I'm giving the veteran big man the nod.  L.A. is playing on a new level this year.  When Aldridge touches the ball, there's usually a bad result for his opponent.  Aldridge is the main reason Portland has made a huge splash in the West.
Runner-up – LeBron James (MIA)
LeBron? Second place? That's impossible.  Trust me; it's not what LeBron isn't doing.  It's what one other particular superhuman is doing.  James continues to be the heart and soul of the Miami Heat.  Although his numbers are still incredible, James seems to be relaxing a bit more this season.  He's traveling at just the right pace until mid-April approaches.
Winner – Kevin Durant (OKC)
I don't even say anything when I watch Kevin Durant play these days.  The man is just that astonishing.  K.D. is averaging just about 37 points per game in January.  He's also shooting better than 52 percent on over 22 field goal attempts.  Somebody needs to come up with a creative nickname for Durant.  Miracle man?  The unguardable?  I don't know…..