"Round and round the carousel; he's got you under its spell". I doubt if Norah Jones was referring to the NFL draft when she wrote "Carnival Town", but it is still very applicable. Every year, as the college football season draws to a close and the NFL playoffs begin, the ongoing discussion about which player will be the coveted, "No. 1 overall pick" picks up steam, mesmerizing the masses and leaving us waiting with bated breath to see which player will be chosen to be the savior of a derelict franchise.
While there are some years where there is a clear cut No. 1 pick (the "suck for Luck" campaign most recently), most years, the draft comes down to who can stand out at the combine and what does your team need. This though, is precisely why the process and speculation that leads up to the draft is so enthralling. Aside from high profile games (Super Bowl, National Championship, NBA Finals), there is little in sports that gets as much hype and attention as the draft.
Part of this could be due to the fact that whoever is drafting first desperately needs that pick, which, in the case of the Colts two years ago for example, could be the difference between being competitive in the upper-echelon of your conference and being irrelevant.
Enter armies of film analysts, football fanatics, and mouth breathers. Everyone and their mother has an opinion about who should be taken where and why. Even between ESPN's two top NFL draft analysts, Mel Kiper and Todd Mcshay there is usually some discrepancy as to who the first ten picks will be.
This year is no different. While nearly everyone who has studied the game and this year's draft class concedes that Clowney is the best player in the draft, some projections have him falling all the way to the seventh overall pick. Outrageous!
Well, not really. The NFL is a quarterback-centric league. There is no way around it. If you don't have a quarterback, you aren't relevant. In the NFL, the difference between a 2-14 year and an 11-5 year is a quarterback, and it does not even have to a Brady or Rodgers. The Chiefs, who had seven Pro-Bowlers the year that they went 2-14, added Alex Smith, who was not good enough to keep his job in San Francisco, and saw immediate results in the form of a nine-game turnaround.
Is Clowney the best player in college football? Probably. Draft experts were saying that he was NFL ready coming out of high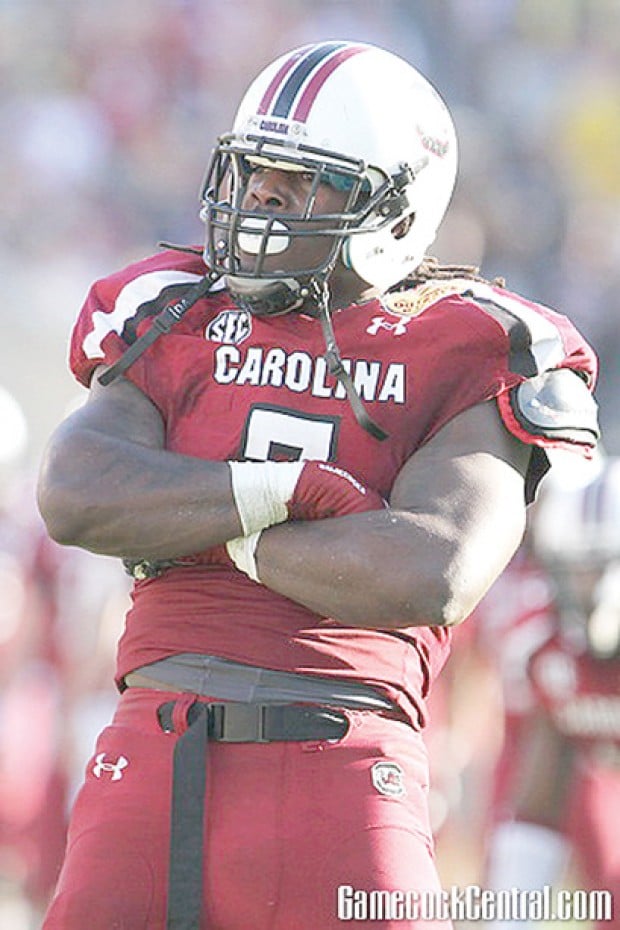 school and has been garnering comparison to Julius Peppers and Mario Williams for three years now. Does that mean that when May rolls around, Bob McNair (who is a Gamecock by the way) will decide that Clowney is the answer to the problems that Houston had this year? Maybe not.
Barring something unforeseen, like an injury or significant off the field issues, Clowney should make an immediate impact on whichever team ends up being blessed by his freakish athleticism and killer instinct. For me, there is less risk associated with taking someone like Clowney than there would be with taking a Teddy Bridgewater or Blake Bortles. By that same token though, if Houston (or Jacksonville or any of the other teams drafting in the top ten that desperately need a quarterback) takes a chance on a quarterback, there is the possibility that he could be the next Aaron Rodgers.
The risk seems unnecessary when you have such a sure-fire guy in Clowney on the board, but the quarterback driven nature of the league has turned what should be an easy decision into a dizzying carousel ride.
Ultimately, it will not matter where Clowney will land; he will be feasting on NFL quarterbacks for many years to come. People can watch film all day, but in the end, the draft is somewhat of a crapshoot. The only certainties in this life are death, taxes, and Clowney ruining the days of quarterbacks everywhere.