National Signing Day started bright and early for the Arkansas Razorbacks, but came with some disappointment.  Five-star DE Solomon Thomas chose to go to Stanford over the Razorbacks early this morning, which put a damper on the day, but good news was still to come.
Just after 9 o'clock, JoJo Robinson a four-star WR from Miami, FL picked the Hogs over Florida State and TCU. Robinson is a great pickup for Arkansas in a position of need for Bret Bielema and the offense, especially with his 4.4 speed.
The rest of the day was filled with the verbally committed recruits faxing in their National Letters of Intent to the coaching staff here in Fayetteville.  Here is a great list of the 24 commits and their information from @ArkRazorbacks on twitter.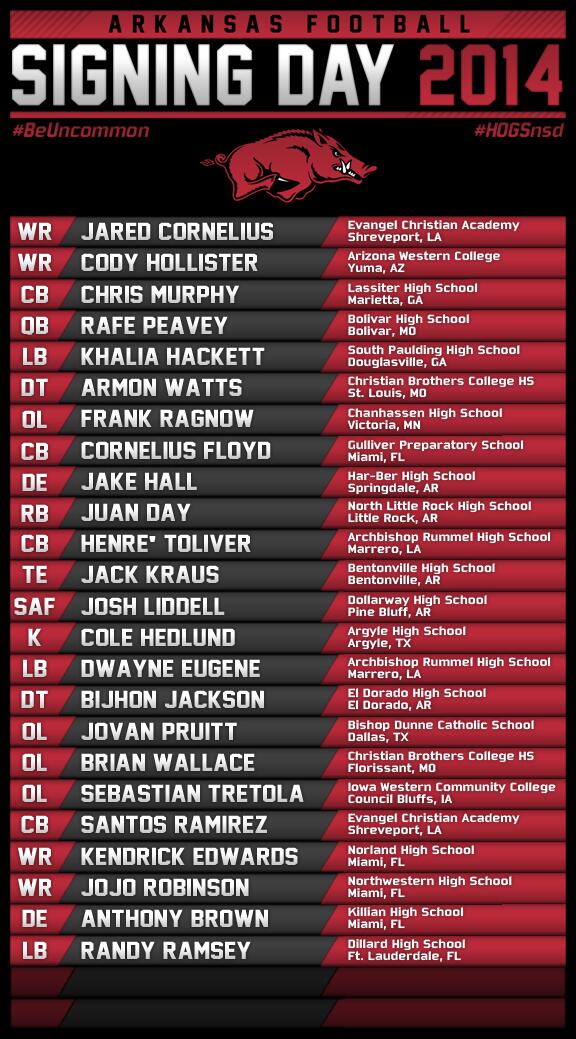 This class is ranked as the 30th best in the nation by 247sports, which is good for only 11th best in the SEC. But while the class may not be as highly ranked as some fans may want, it is just about average to where Arkansas ranks every year.
The average player rating on 247sports.com was .857, which is the second highest average by Arkansas in the site's history.
Bret Beilema said that he doesn't really care where we're ranked today, he cares where we're ranked with these guys two and three years from now.
This class, although lacking extremely high profile commits, met mostly all the positions of need with players that can contribute this year or next. The only small complaint that I could think of would be the lack of a big-time linebacker.
It's obvious that when you watch Razorback games that the linebackers are undersized, and slow compared to the rest of the SEC. I really thought that it was a glaring problem and that maybe Beilema and staff would go out and get a game-changing linebacker commit, but that didn't necessarily happen. However new linebacker signees Khalia Hackett, Dwayne Eugene, and Randy Ramsey will definitely get their chance to be a diamond in the rough.
Say what you want about recruits, stars, and ratings, but the main thing is development and in college football there are very few coaches better at doing this than Bret Bielema. In his most successful years at Wisconsin, he had recruiting classes that ranked in the low 40s and high 30s that went to three-straight Rose Bowls.
There's no doubt that he will get these new guys to come in and buy into his system here for the Arkansas football team.