A couple of weeks ago ArkansasRazorbacks.com put up this promo video alluding to the fact that something big was coming.
After a few fan speculations of things like new uniforms — which are coming in the spring– a groundbreaking on the north endzone expansion, and other various things, a few fans caught on and saw the clue at about the :14 mark.
There appears to be a silhouette of a frontward facing Razorback that makes the "something big" a new secondary logo for Arkansas athletics.
Today the second video came out and confirms that fact that the Hogs will certainly have an alternate logo to use now. You can see a more vivid version of the new logo at the 22-second mark.
Let me make this clear that the primary logo of the Razorback, like on the middle of the field and on the helmets, is NOT changing. This will just give the teams a chance to have a variety of ways in which to show a logo instead of just having one, primary Hog.
This is all a part of Arkansas' deal with Nike. Not only are they doing a new secondary logo, but a complete refreshing of the color of Razorback merchandise sold. They are NOT changing the color, only making it to where everything that you see and wear is the same on and off the field. (I believe the exact color is PMS 202.)
Go to your local Walmart and the shirts and items there range in so many different shades of red and maroon it's almost humorous. With this new refreshing, everything with a Razorback on it will be the same shade of red.
There will more than likely be a certain type of font that will be exclusively used for the Razorbacks as well. I think it will be the same one that is already used on the football and basketball jerseys, just used a lot more often in order to make it more well-known and recognizable.
The Georgia Bulldogs went through a similar process with Nike last year and also got a new secondary logo which I think will be very similar as to how the new frontward facing Hog will look. Here is a look at their new logo and the font that Nike gave them.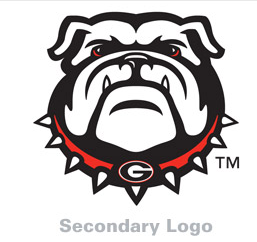 (Via @RadiNabulsi on Twitter)
(Via @ESPNChing on Twitter)
The entire process is supposed to refresh the Razorback brand and provide consistency across all of the athletics at the University.
I think that it is a good idea to get the color scheme right. Like I mentioned before, I don't think anyone really knows what exactly "Razorback Red" is anymore and it shows with the many different shades of clothing on gameday. To finally get this fixed will be great for the program, but it may take years to get rid of the bright red and maroon colored items.
I am not a fan of the new secondary logo however. I see what the department and Nike is trying to accomplish, but I think adding in a new, modern logo will just end up making people mad honestly. If they were going to add in a new logo they maybe should have just used a throwback like the Hog jumping through the "A", or the "sweater Hog" and just updated them a little bit.
I think that the new secondary logo will be just like the "popcorn Hog" introduced in the early 2000s, but then done away with just a few years later. Anytime you try to bring in something new or change the status quo, especially in Arkansas, it hardly ever goes over well.
Some things I would like to see changed in Arkansas football however.
How about we don't run out of a Hog's snout for starters. That has just never made any sense to me.
How about we finish the facade on the west side of the stadium to match the other two-thirds. That's something that just has never made sense to me either.
Finally, how about we don't put green temporary stands at the top of the south endzone. Is there really no way to get them to be red or black? Heck, why not just build actual bleachers up there?
Anyways, like it or not it looks like Arkansas football fans better get ready for a new frontward facing Hog logo debuting around the Spring Game.
What do you guys as fans think? Do you like the idea of a new secondary Hog logo or not? Comment below with your opinions, comments or questions.