(Follow me on Twitter @jim_krug)
About a week ago, my friend Brian told me over e-mail that Pittsburgh Pirates' 3B Pedro Alvarez was a "terrible hitter."  I threatened to punch Brian in the face, not because I condone violence, but because Brian needs to know that there are consequences attached to making such outlandish statements.
But with the 2008 overall #2 pick entering his 1st arbitration season at the age of 27, Pirates' fans are still unsure what they have at the hot corner.  Is Alvarez a franchise cornerstone, or a placeholder?  Will he play his entire career in Pittsburgh, or will he and agent Scott Boras refuse to allow the tight-walleted Pirates to buy out more than the remainder of his arbitration years?  Will Alvarez's secondary tools continue to develop to match his already plus-plus-power, or at age 27, can we expect no further growth?
Below, examine the full gambit of possibilities, and then vote on what you think is Alvarez's most likely future.
Pedro Alvarez: Future MVP?

An unlikely scenario for sure…unless of course, Alvarez can find a way to stay "locked in" for an entire season, as opposed to just a week at a time.  He's been named NL Player of the Week twice in his career, garnered NL Rookie of the Month honors in 2010, and already has an NL Silver Slugger and co-home run title on his 4-year resume.  Further still, Alvarez single-handedly took over the NL Divisional Round series against the Cardinals this past fall, posting an insane .353 BA to go with an otherworldly 1.362 OPS, almost 650 points higher than teammate and eventual NL MVP Andrew McCutchen.  When he's on, Alvarez is a game changer, and one of the most dangerous hitters in baseball.  The only question is whether or not he can find a way to prolong these spurts of dominance for longer than a week.
Pedro Alvarez: Franchise Cornerstone?
Pedro Alvarez may never be a serious NL MVP contender.  After sharing the 2013 NL home run title with Alvarez, Paul Goldschmidt of the Arizona Diamondbacks still finished 2nd in NL MVP voting behind McCutchen, despite leading the NL in 7 offensive categories, including HR (36), RBI (125), SLG (.551), OPS (.952), OPS+ (160), and total bases (332).  It seems unlikely Alvarez will ever match that single-season production, and gone may be the days when voters are wowed by pure offense, as opposed to all-around 5-tool players.  (Of the top 4 NL vote-getters, McCutchen and Cardinals' C Yadier Molina are defensively superior, while the Red Birds' Matt Carpenter plays 4 positions on the diamond passingly.)
Still, there's a lot for a franchise to like about Alvarez.  The assumed "inevitable" move to 1B hasn't happened yet, largely because of Alvarez's plus arm from 3B.  He's the only current Pirate to have hit 30 or more HR more than once, and, with NL MVP McCutchen, is one of only two power threats on the entire roster.  And coming off of a 36 HR, 100 RBI season at age 26, Alvarez is just now entering his prime production years, and is still under relative cost control through 2016.  A lot of MLB teams would love to have a similar situation at their hot corners.
Pedro Alvarez: Less than a Cornerstone, better than Rob Deer?
See above and below.  The middle ground in-between.
Pedro Alvarez: Rob Deer?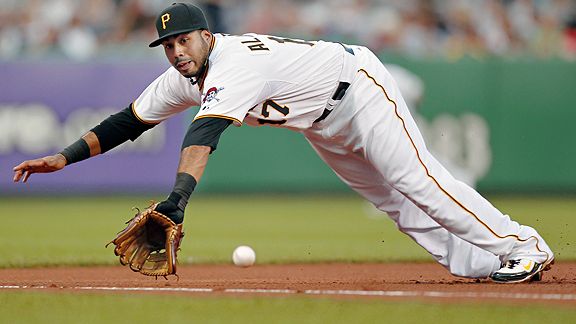 Often brandied about in discussions of Alvarez's career arc are comparisons to longtime Brewer Rob Deer, a perennial home run threat whose career spanned most of the 1980's, and the early part of the 90's.  On one hand, Alvarez plays a more demanding and valuable position on the field (3B) than Deer (OF), though Deer certainly never approached the 27 errors Alvarez accumulated in both 2012 and 2013.
At the same time, their production totals through their first 4 seasons are eerily similar.  Consider the following:
1.  Alvarez has hit 30 and 36 HR in his first two full seasons.  Deer hit 33 and 28.
2.  Alvarez led the NL in strikeouts once, with 180 and 186.  Deer K'd 179 and 186, also leading the NL once.
3.  Alvarez had a 115 and 116 OPS+; Deer a 120 and 113 OPS+.
4.  Alvarez's current career average is a .749 OPS and 106 OPS+; Deer finished with a .766 OPS and 109 OPS+.
Deer went on to lead the NL in strikeouts 4 total times, and outside of a 64 at-bat retirement tour with the San Diego Padres in 1996, only OPS'd above .800 one other time in his entire career.
Pedro Alvarez: A lineup liability?

An .800 OPS is generally a watermark for a productive hitter.  And while Deer accomplished that feat twice in his first two full seasons, Alvarez hasn't come closer than a .784 OPS in 2012.  A key difference has been on-base %.  While Alvarez and Deer have nearly identical career slugging % (.443 vs. .442), Deer posted a passable .324 OBP, but Alvarez sits at a rally-killing .306.
So the focus here- to which my friend Brian may have been alluding when he called Alvarez "terrible"- is the lack of a well-refined "hit" tool to complement Alvarez's plus-plus-power.   Pedro struggles to make contact, and at times, looks totally clueless against off-speed pitches- especially those thrown below his hands, and off the outside corner of the plate.  So vulnerable has Alvarez been that he hasn't drawn the walks one would expect to see out of a 30 HR hitter, helping supplement most similar hitters' OBPs.
.
Personally, I believe Alvarez has value, especially to a 2014 lineup potentially bereft of power.  In this day and age of advanced sabermetrics and WAR, fans become obsessed with "5-tool" players like McCutchen, and potentially OF Starling Marte.  It's certainly fine to desire such hitters, but the reality is that most teams are lucky to have more than 2 or 3 tops, so dismissing players like Alvarez because they aren't of 5-tool caliber is folly as well.  The remainder of a roster has to be comprised of players with tools in certain areas, and weaknesses in others.  The key is for franchises to create teams maximizing the tools they do have at their possession.  Thanks for reading.