Part 1 in a 2-part series.  Follow me on Twitter @jim_krug
I'm in an odd place with Pirates' GM Neal Huntington, and Manager Clint Hurdle.  At the start of the 2013 season, I felt the way many Pirates' fans did- I assumed both were in their last years with the Pirates' organization, after 2 straight record-setting collapses, accompanied by questionable roster moves and talent evaluation to place them there.  But a 94-win season changes a lot of things, and a multitude of Buccos' supporters have re-evaluated their stances since then, and appear generally supportive of the significant 3-year contract extensions both men received at the beginning of the week.
I view retaining the services of Huntington and Hurdle as a microcosm of the 2013-2014 offseason on the whole: the Pirates will still probably be competitive, but they could've done so much more.  I'm certainly not advocating for either to be fired now (as I did for Huntington during the 2013 season, which in hindsight was a bad call).  But contracts that span through 2017, with options for 2018?  Wow.  Below, I give all of the positives and negatives I can think of for Huntington (current article) and Hurdle (upcoming Part 2).  Scan them over, and then vote what you think.  Were the 3-year extensions justified?
GM Neal Huntington- Positives
1.  Was the GM at the helm during the first winning and playoff appearances for the franchise in 20 seasons, and with a payroll still among the lowest in baseball.  He must be doing something right!
2.  Even with some of the most significant core pieces already in place from former GM Dave Littlefield's time, Huntington arguably brought in players to put the team over the top.  Without contributions from A.J. Burnett, Francisco Liriano, Jeff Locke, Charlie Morton, Jason Grilli, Mark Melancon, Russell Martin, and Marlon Byrd, the Pirates don't make the 2013 NL playoffs, and may not have even finished above .500.
3.  The organization's scouting and drafting- the lifeblood of a low-payroll team- has improved significantly over the past few years.  Huntington finally purged the organization of the majority of questionable talent evaluators remaining from Littlefield's time.  The Pirates now have the #1-ranked farm system according to Baseball America, and continue to pluck promising prospects from Latin America.  Under Huntington, the team took advantage of being able to sign draftees to above-slot contracts- luring them away from college commitments- prior to MLB implementing draft rules against it.
4.  Huntington orchestrated two very significant contract extensions for reigning NL MVP Andrew McCutchen, and dynamic, young OF Starling Marte, well, well below market value.  (I would argue that at $51.5MM, all-around class act McCutchen signed for only 1/3 or 1/4 what he could've made on the open market by testing free agency.)  These deals will keep the toolsy tandem roving PNC Park's spacious OF through 2018 and 2021, respectively.
GM Neal Huntington- Negatives
1.  While Huntington was the architect of the 2013 team, entering 2014, he also owns a 474-542 career winning percentage.  Even with some deadline trades, neither Hurdle nor Huntington was unable to prevent record-setting collapses of the Pirates in 2011 and 2012, and the franchise has lost far more games than they've won under Huntington's watch.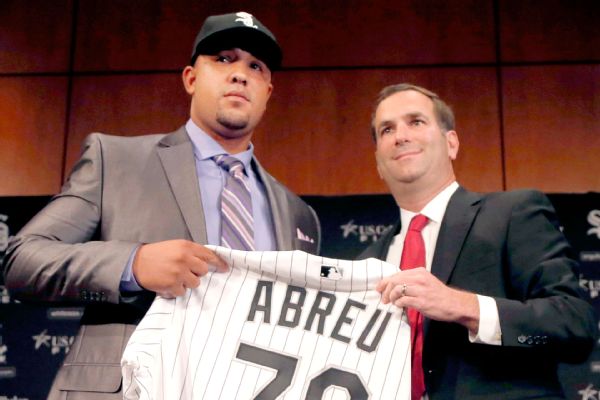 2.  Despite being hindered by an owner in Bob Nutting unwilling to uphold his promises to fans of competitive payrolls, Huntington often wastes what little he is given to spend.  The Liriano and Martin signings of 2013 ended up being major coups, but they appear to be rare exceptions to the rule.  This offseason, Huntington ignored potential quality free agent additions like Cuban defector Jose Abreu (White Sox) or Mike Napoli (Red Sox)- scared off by 8-figure sticker shock- yet still spent $8,000,000 on Clint Barmes, Chris Stewart, and Edinson Volquez, all 3 of which were statistically among the worst regulars in Major League Baseball in 2013.
The GM's free agent approach hasn't changed since he assumed the helm in 2007: throw small amounts of money at a lot of reclamation projects, rather than invest in 1 or 2 significant pieces.  Such quickly-forgotten free agent missteps include- but are not limited to- Erik Bedard, Rod Barajas, Bobby Crosby, Ryan Church, Aki Iwamura, Brandon Inge, and Barmes.  (I'm not linking any of their statlines- too traumatizing for viewers at home.)
Further (I guess like any GM would), Huntington has continued to make excuses for the failed promises of ownership to provide "competitive payrolls" when attendance increased (it did), and when the team became a winner (it did).  Coming off of their first playoff appearance in 21 years, the Pirates spent next to nothing on the team over the offseason, let significant veterans like Burnett and Byrd walk without a fight (or draft pick compensation), and currently rank 27th in MLB payroll.  Thanks for your support, fans!
3.  The Pirates' drafting certainly has improved, but is largely attributable to always picking at or near the top of the board during most of Huntington's tenure, due to the poor W/L records of the MLB club throughout his career.
2013 (9th overall):  OF Austin Meadows (2013 Appel comp), (14th overall) C Reese McGuire
2012 (8th overall):  SP Mark Appel (didn't sign)
2011 (1st overall):  SP Gerrit Cole
2010 (2nd overall):  SP Jameson Taillon
2009 (4th overall):  C Tony Sanchez
2008 (2nd overall):  3B Pedro Alvarez
In fairness to Huntington, Sanchez is arguably the only significant overdraft from that list, and even he may still wind up being a contributing MLB regular.  The Pirates also did well drafting later in the pack for the first time in 2013, nabbing both Meadows and McGuire.  Still, the average draft position under Huntington has been 5.7.  Now that the Pirates are more competitive, the GM is going to have to continue to make quality picks from far later in the rounds, where talent is less assured.
Further, two tenets of Huntington's tenure- signing "above slot" high school pitchers, and the "Fastball Academy"- haven't produced the results many fans assume they have.  Many prep arms lured away from college scholarships have languished in the lower levels, possibly because even minor league hitters can feast on a steady diet of fastballs with few off-speed offerings mixed in.  The Pirates have kept the majority of their arms healthy, but as Jameson Taillon's recent diagnosis proves, arm injuries to top farmhands are not always avoidable.  A quick look at the Pirates' Top 10 Fangraphs Prospects for 2014 reveals 4 pitchers on the list: Taillon (2nd), Tyler Glasnow (3rd), Nick Kingham (6th), and Luis Heredia (10th).
4.  Arguably some of the most significant pieces of the 2013 playoff team-McCutchen, Marte, and Neil Walker– were either inherited by Huntington, or in the case of Cole and Alvarez, were relative no-brainer picks at the top of draft boards.  On the 2013 playoff roster, the only players drafted by the GM after the 1st round were Jordy Mercer (3rd round) and Justin Wilson (5th).  This is probably one of the least-concerning indictments of the list, but it does show that, outside of 1st round picks, Huntington has yet to produce significant in-house talent over 6 years of drafts.
5.  Finally, while Huntington has had a few good trades, he also owns some ghastly personnel decisions.  He gave away perennial All-Star OF Jose Bautista for basically nothing.  He and club President Frank Coonelly alienated- and eventually lost out- on very pro-Pirates prospect Miguel Sano, over a pittance that amounted to around $250,000.  Despite his 2014 injury, Sano entered the season among the top prospects in all of baseball.  Outside of bullpen arm Bryan Morris, Huntington has nothing left to show for the best Littlefield trade chip left for him in Jason Bay.  Compounding the bad trade was the club's decision to jettison OF Brandon Moss after only 600 AB with the club, only to see Moss flourish with the Oakland A's.
And while other GMs are equally at fault for missing the boat, reviewing those draft lists above can be frustrating.  How much better off would the Pirates be with Mike Trout (25th overall) than Tony Sanchez?  Or an injured Matt Harvey (7th overall) over an injured Jameson Taillon?
There are lots of positives and negatives for Huntington, and it makes for a truly fascinating debate.  So do you think the Pirates were correct in extending the GM?  And if so, was 3-4 years the right amount?  Thanks for your feedback, and thanks for reading!
Vote in the polls!
Visit our Pittsburgh Pirates page for more Pirates news, rumors and opinion