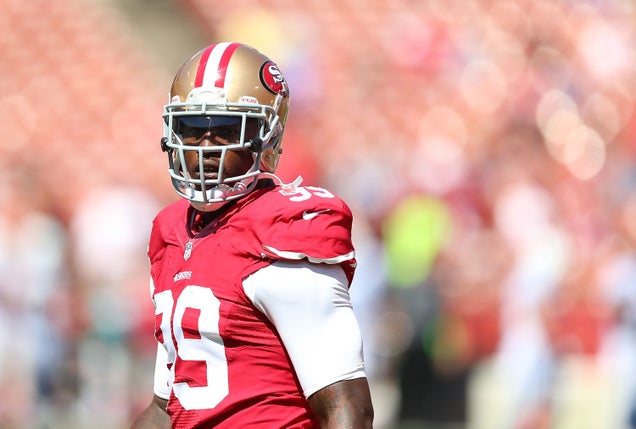 Roger Goodell has branded himself as one of the toughest disciplinarians in the history of professional sports commissioners. While he is not a favorite among players, and is often criticized for the way he handled Bounty Gate in New Orleans, there is a situation in San Francisco that demands his action.
Aldon Smith has become the face of trouble in the Bay Area. And he is in trouble, again. This time the fiercest pass rusher in the league crossed the line at LAX. After being selected for random screening, Smith became annoyed and indicated he was in possession of a bomb. You can find the full story here or here, or darn near anywhere you prefer to look.
Smith's troubles are well documented. There's the 2012 case of illegal possession of an assault weapon. There's last season's DUI incident in which he missed five games while seeking treatment. And now there's this incident at the airport. Clearly Aldon Smith is troubled, and even more clearly, he finally needs to be held responsible for his actions. It's time for Roger Goodell to step in.
A professional athlete being charged with illegal weapons is nothing new. It's somehow become a part of their culture. A professional athlete being charged with a DUI isn't news either. Sadly, that's almost becoming an expectation of professional athletes. But Smith's demeanor at LAX is unacceptable.
Airport security is frustrating. At times it is flat out annoying. But it doesn't take a genius to understand why it is in place. And to hint at having a bomb, even jokingly, in an airport, security check or not is idiotic. There is no justification for that behavior, no matter how frustrated you are. It's the actions of an individual who blatantly disregards any rule of our society.
Smith's actions are not only a distraction to his team in San Francisco, which should not only be means for not picking up his 2015 option by a May 3rd deadline; but should also be means for suspension. Which is where Roger Goodell comes in.
If San Francisco is unwilling to step in, and due to Smith's talent an contributions on the field, I suspect they won't, Roger Goodell needs to live up to his reputation. The NFL culture is becoming disturbing. Too many players believe consequences are something that happens to other people. That they are above the law. Untouchable. Clearly that perspective exists here. Goodell has tried to impact this culture, but hasn't succeeded.
To give him the benefit of the doubt, let's say Smith was "randomly" selected because he is a big, black guy, or maybe the TSA agents recognized him as the star linebacker. By no means acceptable. However, is that any reason for attitude that includes the hint of a bomb in an airport? The same airport that suffered a shooting in November of 2013. An airport in a country that was victim to a deadly terrorist attack just over a decade ago. Clearly it is a sensitive issue, it should always be a sensitive issue. And any threat of a bomb, in jest or not, should be handled as it was.
More disturbing is the fact that Richard Sherman's post-game antics with Michael Crabtree and Erin Andrews have garnered far more negative comments than Smith's DUI and bomb threat. I'm not even about to try and compare the two, and anyone who tries to draw similarities is on a fool's errand.
Bottom line, Aldon Smith is a hell of a football player who has a hell of a lot of growing up to do. And since he has shown he's not willing to grow up on his own, it's time for Mr. Goodell to intervene. And that's no joke.