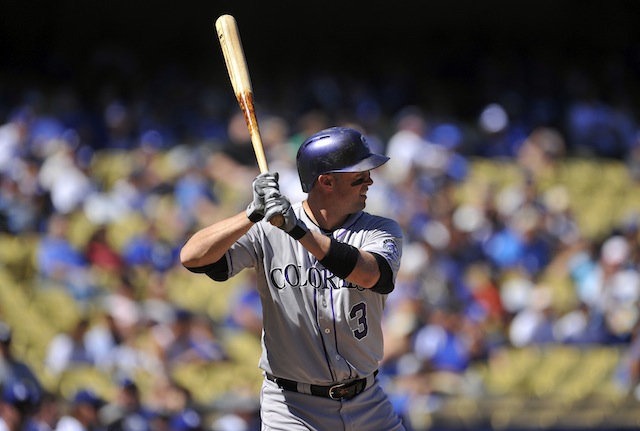 Michael Cuddyer is a wonderful story. Having spent most of his career as a  Minnesota Twin, the guy has found a new home 1,000 miles west.
In Colorado, he reemerged as a club-leader and revitalized his career. His 2013 season was nothing short of amazing, and he quickly became a fan favorite. An NL Batting Crown will do that for a guy, no matter his age.  This season, Cuddyer is a year older. And while he definitely is capable of playing like he did in 2013, and has shown early signs that he's still hot, there's a glaring warning that many are dismissing- a hamstring.
Cuddyer's hamstring makes him one of the weakest points in the Colorado Rockies' lineup. He may not be in the lineup and he may be the defending NL Batting Champion, but he's currently a concerning problem for the Rockies. Not just for the mere fact that he's currently on the 15-day DL, but for the fact that hamstrings are trouble. Hamstrings can be a season long problem for 20-year-olds. Michael Cuddyer is 35. And not just 35, a seasoned 35. We're talking over 1,300 games played and 5,500 plate appearances. Couple Cuddyer's aged hamstring with the history of Colorado injuries to big names (see Tulowitzki's legs and Gonzalez's hand) and there's cause for concern.
[Colorado Rockies: Keys to early success]
Colorado has taken precautions and is nursing Cuddyer back to health with rest and the DL stint. Will it be enough? Given the nature of a hamstring injury and how it comes into play for a guy like Cuddyer, the Rockies need to look at a long-term plan to deal with it. Enter the number of outfielders the Rockies possess.
At the beginning of the season, one of the headlines in Colorado's camp was who would take the everyday spots in the Rockies outfield. While the attention was spent on competition, it is now evident their surplus of outfielders has given them the tools to handle Cuddyer's hamstring. A blessing in disguise.
Walt Weiss needs to baby Cuddyer along. He's no longer an everyday player and with that hamstring, he might need a series or two off throughout the year. Utilize Brandon Barnes, the red-hot Charlie Blackmon, Drew Stubbs, and Corey Dickerson efficiently. If Cuddyer plays a Saturday night game, he's not turning around and playing a Sunday afternoon game. Let him rest.
Baseball is a feel sport, and finding a groove is everything. Sure you run the risk of Michael Cuddyer never settling in when he's playing two of three or three of four with consistent days off. But Michael Cuddyer at seventy to eighty percent is still better than no Cuddyer at all.  Plus, Cuddyer's owed $11 million this season. I don't know about you, but I'd much rather have $11 million contributing to my team every once and a while rather than just wearing a sweet warm-up jacket.
As Cuddyer rests, a potential storm awaits. If Cuddyer's hamstring is anything like his game, then he'll be back to spraying the confines of Coors Field and adding to his 1,300 career hit total in no time. But no man can outlast time, and if time finally catches Michael Cuddyer, it'll manifest in that hamstring. And that makes him the weak point in Colorado right now.