Troy Tulowitzki has blown up. The All-Star is healthy and he's back in full force. As amazing as his monstrous start has been, there's someone overshadowing his .407/9/31 and that's Nolan Arenado. The second-year third basemen appears to be blossoming into the player the Colorado Rockies organization expected. Setting the Colorado Rockies record for most consecutive games with a hit, 28 games, is just one reason you should be watching the Rockies right now.
The most explosive offense in baseball has bolstered the Rockies to a 22-15 record and they continue to nip at the heels of NL West leading San Francisco. Nolan Arenado, is just 23 years old and yet his offensive game is maturing right before our eyes. Known mostly for his wizardry at third-base, Nolan Arenado is hitting .322 with a team leading 12 doubles. During the streak, which broke the record held by fellow Rockie Michael Cuddyer, a 27-gamer from 2013, Arenado has hit .364 with 11 of his 12 doubles, four home runs, and 19 RBI.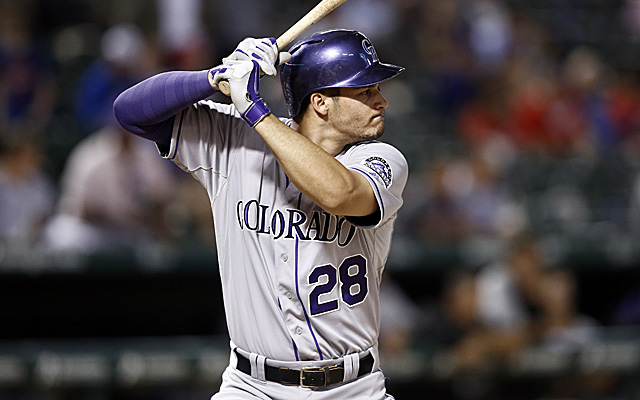 While Arenado looks to push his streak into the thirties, Troy Tulowitzki is doing what a healthy Troy Tulowitzki should be do. Having already established himself as one of the best hitters in the game, Tulo's 2014 start is the best of notable big-league career.
Perhaps Tulo has matured. After all, he his walking more and striking out less. Or is it that the presence of Carlos Gonzalez, the breakout of Nolan Arenado, and the always steady Michael Cuddyer have taken the pressure off Tulo. No longer does he need to be the only guy. No longer pressing, Tulo is not just looking for any pitch to hit, he's looking for his pitch.
As a result, Troy Tulowitzki is pounding the ball. For opposing pitchers, there can't be a lineup more intimidating than the Colorado Rockies right now. Of the six Rockies who have had more than 100 at-bats this season, four are hitting above .300. Led by Tulo and Arenado, the Rockies continue to light up scoreboards across the league.
Yes, Colorado is notorious for hot starts. But baseball continues to be the sport where randomness is the norm, and no one saw this kind of start for the Colorado Rockies or Tulo and Arenado. One thing is for certain, Rockies fans are being spoiled. Watching the future of the franchise blossom like Arenado is nothing short of exciting. Witnessing Troy Tulowitzki on an unprecedented tear is the sugar on top.
Something is happening in Colorado. Who can say how long it will last? All I know is if you're not watching the Colorado Rockies right now, you're missing out.  As for baseball, there's a "Tulo-nado" warning being issued throughout the league, and all opposing pitchers should be alarmed.