If ever there was a week of roller coaster baseball for the Colorado Rockies, it's been this week. Mid-June has provided the Colorado Rockies with the highest of the highs and the lowest of the lows. And the state of California has served as the backdrop for it all.
Earlier this week the Rockies swept division rival San Francisco. Not only did they sweep the NL West-leading Giants, they did it in dramatic fashion. It started last Friday, when the Colorado Rockies entered the top of the ninth inning down five runs. Facing Giants closer Sergio Romo, the Rox rattled off five runs, including D.J. LeMahieu's go-ahead single to beat the G-Men 7-4.
Friday's win set the table for Saturday, when again facing closer Sergio Romo, the Rockies rallied. Charlie Blackmon's single led to Brandon Barnes' two-run, inside-the-park home run, with two outs to beat San Francisco 5-4.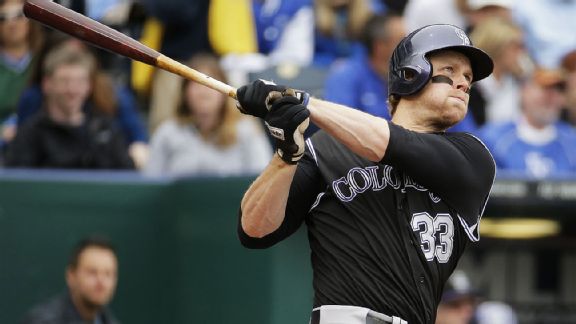 Then Sunday, the Rockies veteran first baseman Justin Morneau hit a two-run double to once again surge the Rox past San Francisco. The Rockies had completed their three-game sweep of the Giants, and had found some momentum to propel them into July.
Not so fast. The Colorado Rockies high came to an abrupt stop against the Dodgers. A stop that was highlighted by pitching phenom Clayton Kershaw no-hitting the Rockies last night, and missing out on a perfect game by one wild throw by infielder Hanley Ramirez.
Not only was Colorado outscored 18-3 in the three game series, Kershaw's no-hit performance summed up the offensive production by Colorado while in Los Angeles. The Rockies were flat out dominated by Kershaw as he struck out 15, and it was the first time the Rox had been held hitless since a former Dodger pitcher, Hideo Nomo did it to them in 1996.
To make matters worse, Jorge De La Rosa, who started last night for the Rockies lasted just 3.1 innings and gave up eight runs. After early season struggles, it had appeared as if De La Rosa was returning to his last season form. Last night's debacle capped a rough stretch for De La Rosa. He's gone 0-3 in his last four starts and has posted in an 8.19 ERA.
While it would be nice for the Rockies to have a chance to catch their breath and recover from the tumultuous week, they won't be able to. They return home for a weekend series with the NL Central leading Milwaukee Brewers.
Meanwhile the Rockies are left with two problems heading into their weekend bout with the Brewers. First, they've got to rediscover putting a bat on pitches and generating some offense. Returning to Coors Field is likely to remedy that problem. More importantly, Walt Weiss has to look at Jorge De La Rosa and figure out what to do with the Rockies starter. His early season struggles have returned and the Rockies are dangerously close to falling out of any contention for the division or a wild card.
It's weeks like this where Walt Weiss earns his paycheck. He's faced with rallying his club and leaving the abysmal experience in LA behind them, cater a roster that continues to see bumps and bruises, and make a decision regarding one of his historically best starters. Just more highs and lows for the skipper of the Colorado Rockies.