On Tuesday night, the Boston Bruins fared quite well at the NHL Awards Show in Las Vegas. Tuukka Rask and Patrice Bergeron took home major awards, while Zdeno Chara was close to taking home one of his own. Rask won his first Vezina, while Bergeron won his second Selke in three years. Chara finished second in the Norris Trophy voting, which seems to continue to favor the best offensive defensemen in the league.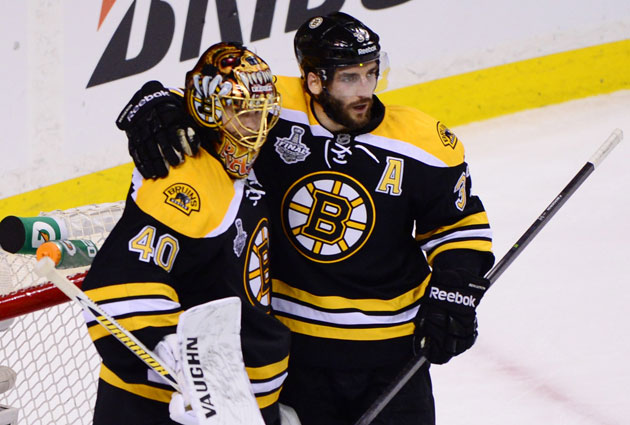 From afar, the Bruins had the league's best goaltender, best defensive forward, and second best defenseman, but still couldn't make it past the second round. Bergeron even finished fifth in the Hart Trophy voting, which is surprising in an age where points seem to mean so much.
It appears all the pieces are there. Even behind these elite pieces, there is plenty of depth that contributes to the best of their abilities. David Krejci finished 12th in the Selke voting, while Torey Krug was the first Bruin to be voted to the All-Rookie team since Brad Boyes. While Chara is towards the end of his great career, Bergeron and Rask are right in the middle of things. Although Bergeron has been around for ages, he continues to improve and make teammates around him better. Rask proved that he was worth the pricey long term deal that the Bruins resigned him to by bringing home the Vezina as the leagues best goaltender. Prospect Malcolm Subban must be wondering where he will fit in as Rask should be the team's number one goaltender for the foreseeable future.
To the delight of gamers all around the New England area, Bergeron also won the NHL 15 cover vote, beating P.K. Subban in the process. It would have been hard for Bruins fans to play their favorite hockey video game if it sported perhaps the Bruins biggest nemesis on the cover.
The big pieces are all in place and there is plenty of depth on the roster as well, the team just needs to continue to adapt. The league is different from what it was even just three years ago when the B's took home the cup, but the Bruins are relatively similar to what they were. With the NHL draft starting on Friday and free agency not far behind, we will see what Peter Chiarelli and Bruins management want to do to make this team match up as best as possible against the top teams in the league.