Shane Victorino underwent back surgery yesterday and will be out for the remainder of the 2014 season. After a great first season with the Boston Red Sox last year, Victorino's injuries will limit him to 30 games this season.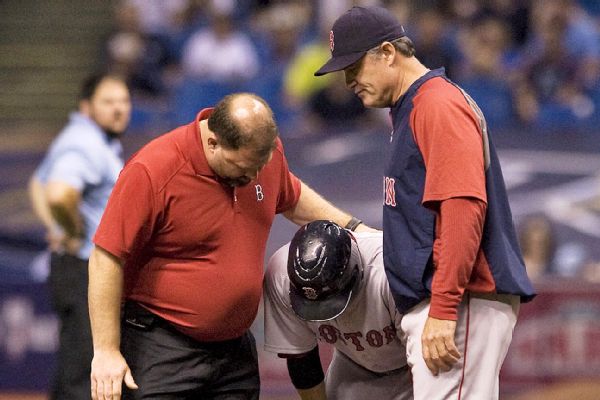 Hamstring and back injuries aggravated Victorino for most of last year, causing him to miss a game here and there and landed him on the DL once, but he was still able to play 122 games and post a WAR of 6.1, good for second best on the team and ninth best in the AL. His absence definitely hurt the Red Sox' chances as they essentially lost Jacoby Ellsbury and Victorino from their outfield and top of the order. Combined, those two had a WAR of just about 12 and when Daniel Nava put together a career year, it isn't surprising that they had perhaps the most productive outfield in baseball. It also isn't too surprising that they have had one of the least productive outfields in baseball this year considering Victorino's absence, Nava's poor performance, and the loss of Ellsbury.
The difficult part to swallow for Red Sox fans is that I believe the Flyin' Hawaiian has played his last game in a Sox uniform. With the addition of Yoenis Cespedes and Allen Craig, Victorino may have trouble cracking the lineup next year even if he is healthy. He will turn 34 in the offseason and with his injury history, the Red Sox may try and find a new team for him. He is due to make $13 million next season, so they may need to eat some salary, but he played a crucial role in winning the World Series so I don't see a problem with that. The Red Sox could be making a series of moves this offseason, including a deal for Giancarlo Stanton, so it could be possible that neither Craig or Cespedes are on the roster next year.
Boston Red Sox interested in Giancarlo Stanton
Victorino is certainly a fan favorite and he will be missed if he is moved. According to Rob Rains of ESPN Boston, Victorino is expected to be ready for spring training next season, so hopefully he can stay healthy wherever he is. In total, Victorino has played 152 games in Boston, hitting .288 with 17 home runs and stealing 23 bases.