This past week, ESPN insider Corey Pronman released his list of the top 100 NHL prospects for the upcoming season. The Boston Bruins had only three players in their system who made the list, starting with their top pick this summer.
#36- David Pastrnak – RW
Pastrnak has already impressed Bruins coaches and officials at developmental camp earlier this summer and has earned the right to be called the Bruins' top prospect. The 25th overall pick in the draft, Pastrnak owns a wiry frame, but the ability to create plays in the offensive zone. While he is 6-feet tall, he only weighs 170 pounds, which is less than former Bruins top pick Tyler Seguin. Pastrnak is also a right-hand shot, which is something only two current Bruins forwards can say. Pastrnak's game is similar to another Bruin from the Czech Republic, David Krejci. They both possess a strong passing ability, speed, and elusiveness, but Pastrnak will need to improve his two-way game if he wants to play in Boston, something that Krejci has developed well over the years. Head coach Claude Julien tends to favor players who get in the dirty areas and don't sacrifice defense for offense, so it is unclear whether Pastrnak will fit into the current system. It should be exciting to get a glimpse of him playing with some of the veterans in the preaseason though and possibly get a chance to form some chemistry with his idol, Krejci.
Boston Bruins prospect profile: David Pastrnak
#50- Ryan Spooner – C
By now, we all know who Spooner is and what he can do. Similar to Pastrnak, Spooner possesses speed, agility, and the ability to make plays in the offensive zone. His weaknesses are also in the same boat as Pastrnak, as his two-way game is not developed and his 5-foot-11, 180 pound frame is not ideal for the physicality of the NHL. When Chris Kelly was injured last year, Spooner had an extended stay with the Bruins, playing in 23 games and logging 11 assists. With his 23rd birthday coming up in January, Spooner needs to earn himself a regular job with the big squad sooner rather than later before he starts earning himself the label of Jordan Caron 2.0. The Bruins already have plenty of centers, so Spooner may have to settle for a wing job for the time being if he is able to make the team.
#55- Alexander Khokhlachev – LW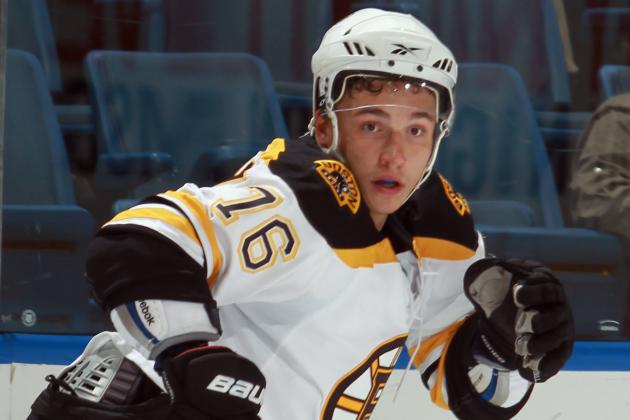 These three prospects all have so much in common and it is possible that they could all succeed or fail together while playing for the Bruins. Khokhlachev, like the other two, is a great skater and a pass-first player who can make defensemen look silly. At approximately Spooner's size, "Koko" might have the best shot of the three, finishing with 21 goals in 65 games for Providence last year. His 57 points were good enough for 3rd best in the AHL, but where does he fit on the Bruins?
Both Phil Kessel and Seguin were criticized for their lack of toughness while in Boston and both are now with other teams. The only Bruins forward under 6-feet tall right now is Brad Marchand, but his ability to be a pest has made him a well-known thorn in opposing teams' sides. The Bruins have already lost toughness in Shawn Thornton and Jarome Iginla, so will we see a different looking team this fall that emphasizes skill over muscle? There are a number of prospects that can fit the system better than these three. Anthony Camara, Justin Florek, and Matt Lindblad may not have the same potential as the three top prospects, but their ability to play on both ends of the ice may earn them gigs with the Bruins this year. I wouldn't be surprised one bit if Julien preferred to go with that route and keep the top prospects in the AHL to develop their neutral zone play and defense.
Pronman pegs the Bruins overall farm system at 21st, which isn't spectacular. That doesn't include the young players already making a name for themselves with the Bruins though, such as Dougie Hamilton, Torey Krug, and Reilly Smith. So while the Bruins currently lack a real superstar prospect, their group of veterans in their prime and developing roster players should keep the Bruins as a cup contender for the next several years.