If you haven't had a chance to read ESPN's Baseball Tonight "What If" series, I highly recommend it; especially the Ken Griffey, Jr. special. Big names like Jayson Stark evaluate some pretty interesting things from baseball's more recent history.
Their work combined with the Colorado Rockies retiring Todd Helton's number this week got me thinking about a different what if. Todd Helton is undoubtedly the greatest Colorado Rockie ever. Despite retiring last year, he continues to remain the icon of Colorado Rockies baseball.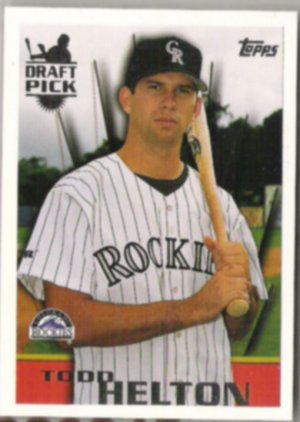 In his 17 years with the Rockies, "The Toddfather" racked up 2,519 hits, 369 home runs, 1,406 RBI, and hit .316. He peppered the spacious outfields of Coors Field with extra base hits time and time again. On a ballclub that rarely exceeded a .500 record, Todd Helton was the brightest spot.  In short, he was one of baseball's best hitters for over a decade.
But what if Todd Helton hadn't wound up in Colorado? The only other first basemen taken in the first round of the 1995 draft was David Miller, a standout from Clemson University, who went to the Cleveland Indians. The late 90s were the Indians' best times as they finished first in the AL Central six out of seven years from 1995-2001.
As an Indian Helton wouldn't have played at first, but it is likely he would've taken David Justice's role as DH by 1997. He would have been a part of a team chasing pennants instead of a .500 record year after year. He would have also gained the recognition he deserved.  The Indians led the majors in total attendance during that same time frame.
It is likely the Toddfather would have become a fan favorite and may have been enough to propel the Indians past the Yankees-dynasty. And with Jim Thome and a young Manny Ramirez around him, Helton would have had the protection great hitters love. Could his numbers have been even greater with those bats surrounding him? Quite possibly. Furthermore, the trade of Kenny Lofton probably would have not happened, thus increasing the speed and versatility of the Indians roster and bolstering their championship chances.
For those of us who remember the game in the late 90s, it is easy to get excited about what could have been had Todd Helton joined the Tribe in Cleveland. I like to think that Drew Carey would have been singing about a World Series title. And it is the lack of postseason of experience, a World Series ring, and the fact that Todd Helton played not under the bright lights of Cleveland, but in the shadows of a newly formed franchised  in the Colorado Rockies, that keeps him from being considered a first ballot hall of famer.