The blows keep on coming, relentless and brutal, with no relief in sight. The bell that signals the end of the round to provide a bit of relief for those on the receiving end of a bloody pummeling is a long, long ways off for Jason Garrett and the Dallas Cowboys.
It's been a disparaging summer in Dallas. Whether this is the karmic football gods laying a beat down on Jerry Jones for his past transgressions or just the latest in a recent string of familiar misfortune, Dallas will be entering this season with far more question marks than definitive periods.
The 2014 season has yet to begin in earnest and already the Cowboys look like they've gone a few rounds deep with Ivan Drago. Thursday morning the Dallas defense suffered another casualty, as 2013 sixth round pick DeVonte Holloman's career came to an abrupt end.
Jason Garrett says second-year LB DeVonte Holloman has been told his neck condition will likely end his career.

— Tim MacMahon (@espn_macmahon) August 21, 2014
Holloman received word from his doctors that a lingering spinal cord injury suffered last season has made the pursuit of a football career too dangerous a prospect. The sad news serves as yet another severe strike to a wounded Dallas D.
Holloman started the final two games of the 2013 regular season in place of Sean Lee — also out for the 2014 season — and was expected to play an important role as an outside linebacker before reaggravating the injury in the fourth quarter against the Baltimore Ravens last weekend.
The loss of yet another rotational cog leaves Dallas' defense looking thinner than Matthew McConaughey in Dallas Buyers Club. What once looked like an uphill struggle against injury has quickly evolved into an unenviable ascent up Olympus Mons. 
The Cowboys sport an abundance of stars on their uniforms and turf and stadium, yet the defense is filled with anything but — vagabonds and outcasts and unknowns, a collection of no-names and has-beens hidden beneath a silver helmet and a blue star. The celebrity team that still believes it belongs to "America" will be forced to find a way to win this season with a defensive group that has been pieced together with bit players and hopeful neophytes.
With the loss of another key linebacker, who can the Cowboys turn to?
Another new face
Dallas was quick in responding to the unfortunate loss of Holloman, bringing in former Eagle Jason Phillips for a workout on Thursday morning.
The 28-year-old was cut by Philadelphia just last week, but with the dominoes falling as ominously as they have the Cowboys were wise in making a swift move in an attempt to find some semblance of linebacker depth.
Phillips tore his ACL in training camp last year, forcing him to sit out the entire 2013 season. Prior to that he was a core special teams player with the Carolina Panthers and started two games at the Sam in 2012.
At this point the Cowboys just need as many healthy bodies as possible, and Phillips appears to be completely healed from the ligament tear.
If Phillips is signed he will have two preseason games and a handful of practices left to prove his worth. It's an undeniably small window to determine if a player is worth an investment or not.
It's possible he pulls a Zach Minter and explodes on the scene less than 72 hours after joining the team. It's unlikely, but it appears he will at least be given the chance.
Reshuffling the deck
The losses of Sean Lee, rookie Demarcus Lawrence, rookie Ben Gardner, Anthony Spencer, Orlando Scandrick and now Holloman have left the Cowboys' defense in a state of flux.
It's to the point now where nearly every linebacker on the roster has been shuffled around to numerous positions — whether it be at the Mike, Sam or Will — just to maintain some sort of contingency plan in the event that this gridiron plague continues to bedevil Dallas.
The rash of injuries has led Rod Marinelli to throw some players into the fire far earlier than expected. Rolando McClain has gone from fighting for a spot on the roster to taking first team reps at middle linebacker. Whether he starts or not, the enigmatic McClain will play a pivotal role this season.
The loss of Lawrence on the line has rightfully received plenty of attention, but while the second round pick has been rehabbing another defensive player Dallas drafted this year has turned himself into a modern-day linebacking Renaissance Man. Anthony Hitchens has been shuffled around like playing card, jumping between middle and outside linebacker as the depth chart ebbs and flows with the tide of injuries.
Though Hitchens was a Will at Iowa, he was drafted as Lee's backup. He took all the first-team reps at middle linebacker on Thursday, flanked by Justin Durant and Bruce Carter. Coaches have praised Hitchens' willingness and flexibility throughout camp. He should get an extended look at middle linebacker against the Dolphins, giving him a well-deserved chance to earn a starting job.
Dallas Cowboys rookie Anthony Hitchens takes all first-team reps at MLB in practice Thursday http://t.co/GtTuSowI4V

— Dallas Cowboys news (@dmn_cowboys) August 21, 2014
Durant's versatility allows him to move around similar to Hitchens. He is currently listed as the first-team middle linebacker on the depth chart, but McClain or Hitchens could find themselves in that starting role, with Durant moving to the outside.
Bruce Carter is a 6-foot-3, 235 pound headache. His inconsistency is frustrating and his mental lapses have led to a temporary downgrade from full-time first-team reps. It remains to be seen if this will be enough to awaken the inner All-Pro in Carter, but as a mystery playing on the final year of his rookie contract, he needs to step up this season not only for his team, but for himself.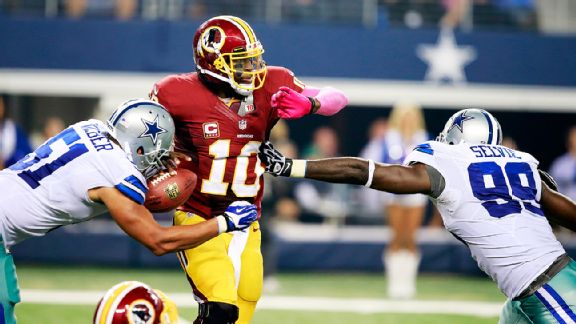 Kyle Wilber has been the first-team Sam all offseason, but his history as a defensive end may lead Marinelli to utilize him on a sparse D-line. If the other linebackers can distinguish themselves on Saturday against the Miami Dolphins, that could become a more practical option for Dallas.
Saturday Night Fever
The third preseason game is, as anyone familiar with football will tell you, the most intense and similar to a regular season game. Starters often play the entire first half — though there are always caveats; Tony Romo will be limited to two series or around 14 snaps this game due to his recent injury — while those in positional battles make their final push for the job.
The defense has several wide open battles right now, especially in the depleted linebacking corps and secondary.
It will be important to watch how the linebackers each fare. Hitchens will receive two-to-three quarters of playing time, likely with the first team defense at middle linebacker. McClain is also in the mix for the starting job, with Durant a "break glass in case of emergency" option at middle linebacker. Marinelli would love to utilize Durant's talents on the outside if he feels comfortable enough with either McClain or Hitchens starting.
Wilber could find himself splitting time between outside linebacker and right defensive end as the Cowboys scramble for answers anywhere they can find them.
Carter must show some consistency and headiness in his play. The athletic ability is apparent, but the lapses in judgement are becoming far too common for the fourth year pro. Carter's role as a starter could hinge on his performance in this game.
Phillips may get a decent look, but it's uncertain what the Cowboys' intentions with the ex-Eagle are right now. Marinelli should want to take a look at several free agents still available before the season begin, but it's unlikely they'll be able to pluck a major impact player from the market in time for meaningful early season reps.
Training camp and preseason usually serve as arenas where questions are answered and battles are won, but injuries and ill fortune have deprived Garret and his staff of these critical components.
Saturday night, Sun Life Stadium will be a proving ground for a number of players on the Dallas roster. It will be up to them to finally provide Garret and all of Dallas Cowboys nation with some answers.