Jayson Tatum has had a remarkable season for the Boston Celtics. He's averaging 14.3 points per game and 5.6 rebounds per game while shooting 51% from the field and a league-leading 51.8% from three-point range. Tatum was touted as the most NBA ready scorer in the draft, and Celtics fans are quickly learning why. Let's go to the film to see how his length, post game, shooting, and confidence have helped Tatum become one of the best young players in the league.
Length: At 6'8", Tatum stands eye-to-eye with LeBron James. But his real advantage comes with his length. His wingspan is somewhere between 6'11" and 7' depending on who measures. Either way, it's an invaluable tool for wing players (see: Kevin Durant). Tatum uses his length especially well around the rim. He's not exceptionally quick, but he has a good first step and uses his crossover to get defenders off balance. He seems to get by his man at will. Once he's in the paint, he uses his length to reach around defenders and finish off the glass with both hands.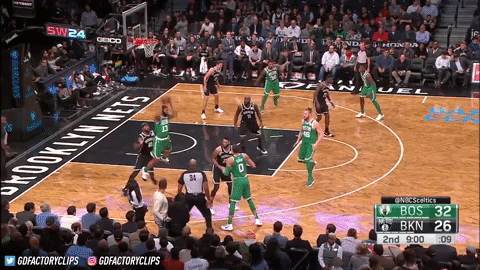 It feels like a few times a game that Tatum is able to get to the rim like this. As he gets older and stronger, it will only become a more potent weapon.
Post Game: Tatum's offensive game is extremely mature for someone of just 19 years old, particularly in the post. His footwork is beyond his years, and his length helps him get off shots over defenders. In this play, Tatum knows he has a mismatch (a great sign of basketball IQ). He receives the pass with great deep post position and goes right to work. One dribble to his spot, turn-around fall-away.
This is a great play because it's a display of pure skill. Courtney Lee, a well-respected perimeter defender plays this perfectly, Tatum just executes even better. His length and touch lead to an easy two.
Shooting: What has been a pleasant surprise for the Celtics is Tatum's shooting. He was solid in college, 34%, but that's nowhere close to his NBA production thus far. Some of that credit should be given to the Boston coaching staff, who have improved Jaylen Brown's shooting drastically as well. Well it's true he's taken only about a third of the attempts of guys like Harden and Curry, Tatum leads the league in three-point shooting. So far, he's looked like a knockdown shooter, especially off the catch and shoot. His shot reminds me of Kevin Durant – he brings the ball below his waist then over his head, his knees are slightly in, he has good elevation and a high release point. It's nearly unblockable.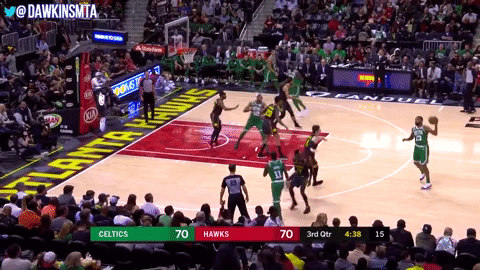 It's only been a couple months so it's hard to say if he'll be able to keep up this level of shooting, but so far the Celtics have been thrilled with his ability to spread the floor by forcing defenses to respect, if not fear, his shot.
Confidence: As Tatum has found his way, his confidence has flourished. Earlier in the season, he seemed to be deferring in clutch situations – late in games and with the shot clock winding down. There was one play in particular that sticks out in my head where he gave up the ball to Marcus Smart with the shot clock winding down. Smart bricked a three. Now he's learning to take control. He's shown a willingness to step up in the fourth quarter and has knocked down big shots without batting an eye. In this comeback win against the Charlotte Hornets, Tatum scored back-to-back buckets at a crucial point in the game. The second of which put Boston up two possessions with 1:30 to go.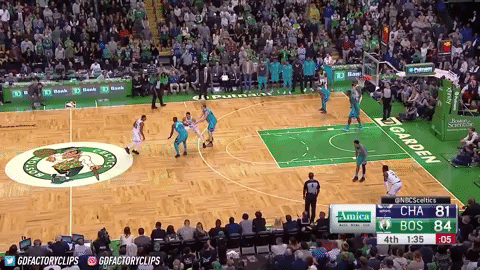 This drive is another example of Tatum's polished game, and his ability to use his length to finish at the rim.
Jayson Tatum is one of the biggest keys to Boston's future, but if his game continues to mature at an accelerated rate, the future may be sooner rather than later for the Celtics.
If you would like to receive an email each time a new Boston Celtics article is published, fill out our email notification form.