Boston Celtics head coach Brad Stevens knew it was going to be a tough night. Guard Jaylen Brown is in the concussion protocol and was not available following a scary fall against the Minnesota Timberwolves last weekend. All-Star center Al Horford was under the weather and also not available for the game. Stevens and the Celtics encountered another hurdle when All-Star Kyrie Irving didn't return for the second-half of the game. Left-knee soreness was the official reason for Irving's absence, a nagging injury he has dealt with on-and-off this season. This left Boston in a tough position against a challenging Pacer team. But this Celtics team has not laid down all season, and they didn't last night either.
Despite being hobbled by the ankle, Irving was fairly productive in the first half. In 16 minutes of action, he scored seven points, grabbed four rebounds and notched a plus/minus of +11. Boston scored 25 points in each of the first two quarters and led by ten at halftime. The third quarter got off to a bit of a bizarre start. Irving did not emerge from the tunnel to start the second half, but the Celtics issued no word on Irving's injury status. It wasn't until late in the third that Boston officials ruled Irving out with soreness in his left knee. Meanwhile, Indiana blitzed the undermanned C's for 34 third-quarter points and led 74-70 going into the fourth.
The Pacers, led by Victor Oladipo's 27 points, built a nine-point lead, but couldn't push it to double-digits. Of late, Boston has bucked the bad habit of getting down big: since the All-Star break, the Celtics haven't trailed by double-digits. The gritty Celtics closed the gap to three points with just over seven minutes to play. An and-one from Daniel Theis and free throws from Jayson Tatum and Marcus Smart brought Boston within one possession with 6:10 remaining, but the Celtics couldn't score for the next three minutes.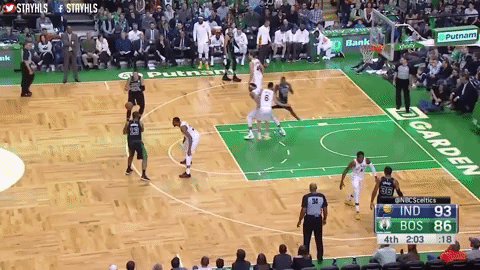 The last three minutes were back and forth, with Smart and Oladipo trading buckets. Smart banked in a three-pointer with just under two minutes to go, and Terry Rozier hit a three with 1:15 left to give the Celtics a fighting chance to win. With 36.5 seconds left, Jayson Tatum was fouled and knocked down two free throws to tie the game. Myles Turner came right back and outmuscled Marcus Morris at the other end to put the Pacers back on top. Rozier missed a potential game-tying shot, so Boston had to foul. Oladipo knocked down two from the charity stripe, putting Indiana up four.
Smart missed a three-pointer, but an offensive rebound and put-back brought Boston within two. Then, Marcus Morris drew an offensive foul on a forearm shiver from Oladipo. A lengthy review of out-of-bounds ball placement gave Stevens time to draw up a play. Rozier came off a Tatum screen but couldn't knock down a contested jumper to send the game to overtime. Indiana prevailed 99-97.
Boston really had no business winning this game, playing without three starters in the second half. The Pacers are a very good basketball team, and with this win moved past the Cleveland Cavaliers for third place in the Eastern Conference. But the fight and heart Boston has displayed all season kept them in the game. Boston now falls to 3.5 games back of the East-leading Toronto Raptors. The Celtics have an extra off-day before they face the fifth-seeded Washington Wizards on Wednesday.
If you would like to receive an email each time a new Boston Celtics article is published, fill out our email notification form.