That went well. At least from a Boston Celtics perspective. Boston pulled out a thrilling Game 1 overtime victory over the Milwaukee Bucks and followed it up with a controlling Game 2 performance. Boston now travels to Milwaukee with a 2-0 series lead and the momentum squarely in their favor. Expect the Bucks to keep fighting, especially with a pair of games on their home floor. Here are three keys for the Celtics if they want to take a commanding three games to none lead.
Close halves strong.
The Boston Celtics had great first quarters in both games – 29 points in Game 1 and 33 points in Game 2. In total, Boston outscored Milwaukee 62-39 in the first frame. But in the second quarter, the Celtics seemed to lose their stride. In Game 1, the Bucks scored 30 points, while holding the Celtics to just 15. Milwaukee actually went into the half with a lead thanks to their bigtime second quarter. The Game 2 margin wasn't as substantial, just 29-27, but the Celtics let the Bucks back into the game. It is, of course, important to play well in the first quarter, but Boston has already done a great job doing that in this series. The Celtics need to maintain that level of play in the second quarter.
The second half is nearly identical. In the third quarter, the Celtics have a 56-43 advantage. In the fourth? The Bucks hold the edge, 64-59. This is not a new problem – Boston has consistently let opponents back into games in the fourth quarter. They've pulled out the first two, but they might not be so lucky on Milwaukee's home floor.
Make Giannis Antetokounmpo work defensively.
Giannis is the only reason Milwaukee is in this series at all. Khris Middleton has played well but the Bucks are going nowhere unless Antetokounmpo plays spectacularly. Which, luckily for the Bucks, he has. He posted 35 points, 13 rebounds, seven assists and three steals in Game 1 before fouling out. He added 30 points, nine rebounds, and eight assists in Game 2. He is going to get his on offense, and that's ok because other than Middleton, Milwaukee doesn't have another consistent offensive threat. On the other side of the ball, Boston needs to make Giannis work, doing their best to wear him down and lower his energy level for the offensive end. Best way to do that? Al Horford. The first two games have demonstrated that Horford is just too strong for Antetokounmpo. When Big Al takes Giannis into the paint, it's an absolute bully session. The more banging Boston does down low offensively, the less energy Antetokounmpo will have for his own offense.
Exploit Eric Bledsoe.
Bledsoe might tell reporters he doesn't know who Terry Rozier is, but you know he darn well knows exactly who Rozier is. In the first two games, Rozier was 15-32 from the field with 46 points, 11 assists, and zero turnovers. Bledsoe is just nine of 25 from the field with 21 points, eight assists, and six turnovers. Bledsoe has always been known as a good defender, but the reality is that Rozier is too quick for him. Scary Terry has been giving Bledsoe buckets (see below) and there's no reason that should change. Boston should run as many plays as possible for Rozier and try to get him in space with Bledsoe.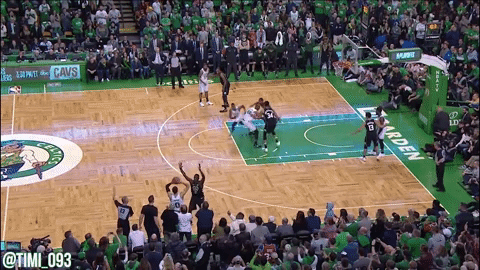 If you would like to receive an email each time a new Boston Celtics article is published, fill out our email notification form.